After bottoming out during the 2019/20 season, the Warriors appeared well-positioned to return to contention in the Western Conference in '20/21. They were getting healthy and were poised to land a top young talent with the No. 2 overall pick in the draft.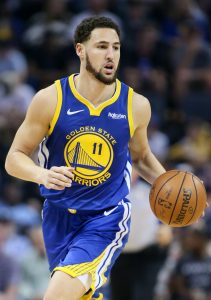 However, just hours before the 2020 draft got underway, word broke that Klay Thompson had suffered another major leg injury — after tearing his ACL in June 2019, the veteran sharpshooter tore his Achilles in November 2020.
It was a brutal setback for Golden State and put a major dent in the team's plans of getting back into the title mix. Given the top-heavy construction of the roster, there simply wasn't enough depth to make up for the loss of a two-way impact player like Thompson, whose defensive ability on the wing were missed nearly as much as his floor-spacing and shot-making contributions on offense.
A superhuman effort from Stephen Curry nearly sent the Warriors to the postseason anyway. Ultimately though, the team lost two play-in games and finished in the lottery for a second straight season. Golden State will once again enter the offseason with the opportunity to add some young talent to the roster in the draft, while waiting for Thompson to finish rehabbing a major injury.
---
The Warriors' Offseason Plan:
Curry is 33 years old; Thompson and Draymond Green are 31. The Warriors can't count on those stars – who helped earn the team three titles during the 2010s – to continue producing at their current or previous levels indefinitely. That puts the team in an awkward spot.
In James Wiseman and a pair of lottery picks, Golden State has the pieces to put together a tantalizing trade package for a veteran star whose timeline would match up better with that of Curry, Thompson, and Green. However, the Warriors have seen first-hand during the last two years how quickly a major injury or two can derail a team's season, making the prospect of going all-in with the current core a little risky.
If the Dubs were to take a more patient approach, they could potentially develop a next generation of impact players who could help smoothly transition from the Splash Brothers era into whatever comes next, ensuring Golden State remains a playoff team for years to come. But if those youngsters aren't ready to contribute right away, the team risks wasting away Curry's last few prime years without getting back to the Finals.
It's a predicament without an easy solution. If there were a star player in his early- or mid-20s on the trade market, the Warriors could feel confident trading the farm and counting on that player to be the cornerstone for the next era of Bay Area basketball. But the only player who really comes close to fitting that bill is Ben Simmons. Are the Warriors ready to put all their eggs into the Simmons basket following his playoff collapse? Would the win-now Sixers even be interested in the sort of package Golden State could offer?
There's a middle ground here — a deal in which the Warriors give up one or two of Wiseman and the lottery picks for a win-now piece could make the team a title contender without going all-in. And perhaps there are players besides Simmons who will emerge as logical trade targets for the franchise. Pascal Siakam's name has popped up in at least one rumor.
It'll be fascinating to see which direction the Warriors go with Wiseman and those draft picks, but there are other issues for the team to address this offseason too. If the club doesn't re-sign Kelly Oubre, getting something back in a sign-and-trade would be nice. Determining whether to use the taxpayer mid-level exception will come down to how much more money ownership is willing to add to its tax bill now that Golden State is a repeater team.
And, of course, the Warriors will have to determine whether they feel comfortable offering Curry a maximum-salary extension before he reaches free agency in 2022. A four-year max extension would pay him nearly $54MM(!) per year for his age 34-37 seasons.
As good as Curry was this past season, there's a very real chance that deal would turn into a liability before it's over — the 2025/26 cap hit would be a staggering $59.6MM. The organization may decide the risk is worth it, given Curry's résumé, but if he's willing to take a discount or accept a deal that's not fully guaranteed on the back end, it would increase the Warriors' long-term flexibility.
---
Salary Cap Situation
Note: Our salary cap projections are based on a presumed 3% increase, which would result in a $112.4MM cap for 2021/22.
Guaranteed Salary
Stephen Curry ($45,780,966)
Klay Thompson ($37,980,720)
Andrew Wiggins ($31,579,390)
Draymond Green ($24,026,712)
James Wiseman ($9,166,800)
Kevon Looney ($5,178,572) 1
Jordan Poole ($2,161,440)
Eric Paschall ($1,782,621)
Juan Toscano-Anderson ($1,701,593)
Shaun Livingston ($666,667) — Waived via stretch provision.
Total: $160,025,481
Player Options
Team Options
Non-Guaranteed Salary
Gary Payton II ($1,977,011) 2
Damion Lee ($1,910,860) 3
Mychal Mulder ($1,782,621
Alen Smailagic ($1,782,621) 4
Total: $7,453,113

Restricted Free Agents
Two-Way Free Agents
Draft Picks
No. 7 overall pick ($5,466,360)
No. 14 overall pick ($3,562,080)
Total: $9,028,440
Extension-Eligible Players
Stephen Curry (veteran)
Kevon Looney (veteran)
Eric Paschall (veteran)
Alen Smailagic (veteran)
Andrew Wiggins (veteran)
Unrestricted Free Agents / Other Cap Holds
Kelly Oubre ($21,562,500): Bird rights
Kent Bazemore ($1,669,178): Non-Bird rights
Matt Barnes ($1,669,178): Non-Bird rights 6
Andrew Bogut ($1,669,178): Non-Bird rights 6
Jonas Jerebko ($1,669,178): Non-Bird rights 6
David West ($1,669,178): Early Bird rights 6
Total: $29,908,390

Offseason Cap Outlook

If they hang onto their players on guaranteed contracts and their two lottery picks, the Warriors will be committed to over $169MM in salary for 11 players.
While we expect a certain amount of offseason roster shuffling that could reduce team salary to some extent, the idea that Golden State will get below the cap – or even below the luxury tax line (projected to be in the $136-137MM range) – seems pretty far-fetched. Count on the Warriors to have another big tax bill in 2021/22.
Cap Exceptions Available
Taxpayer mid-level exception: $5,890,000 7
Trade exception: $2,250,000
Trade exception: $1,824,003
Footnotes
Looney exercised his player option for 2021/22.
Payton's salary becomes partially guaranteed ($659,004) after August 11.
Lee's salary becomes partially guaranteed ($500,000) after August 15.
Smailagic's salary becomes guaranteed after August 6.
Because he'll have four years of NBA service, Bell is ineligible to sign another two-way contract.
The cap holds for these players remain on the Warriors' books from prior seasons because they haven't been renounced. They can't be used in a sign-and-trade deal.
This is a projected value.
Salary and cap information from Basketball Insiders and RealGM was used in the creation of this post.