Over the course of the 2019/20 NBA season, up until February's trade deadline, we're keeping an eye on potential trade candidates from around the NBA, monitoring their value and exploring the likelihood that they'll be moved. Each of these looks at possible trade candidates focuses on a specific division, as we zero in on three players from that division.
Even as the Warriors have fallen off a cliff this season due to injuries and offseason roster changes, the Pacific has remained one of the more competitive divisions in basketball.
The Lakers and Clippers are among the NBA's best teams and look like legit championship contenders. The Suns and Kings aren't in that tier, but they're currently neck-and-neck for the No. 8 seed in the West. It's possible there could be as many as four buyers in the division at the trade deadline.
After having initially looked last month at three potential trade candidates in the Pacific, we're singling out three more today. Let's dive in…
Trevor Ariza, F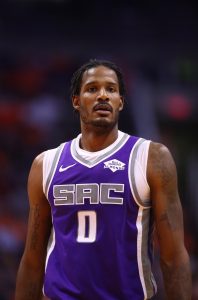 Sacramento Kings
$12.2MM cap hit; $1.8MM of $12.8MM salary guaranteed for 2020/21

Ariza has bounced around the league since leaving Houston during the 2018 offseason, playing for the Suns, Wizards, and Kings since then. None of those teams has been a perfect fit for the veteran forward, who has only logged 32 total minutes for Sacramento since November 8 due to a combination of personal reasons, a groin injury, and general ineffectiveness.
The Kings will have a crowded frontcourt rotation when Marvin Bagley III returns, so it's unclear whether or not Ariza will have an opportunity to play regular, consistent minutes all season. That could make him expendable.
Since Sacramento is a young team pushing for a playoff team, the front office may decide it's worth keeping Ariza around for his veteran leadership and for depth purposes — especially if he continues his up-and-down play and doesn't have much value on the trade market. But it's not a lock that he's still on the Kings' roster by February 7.
Willie Cauley-Stein, C
Golden State Warriors
$2.2MM cap hit; $2.3MM player option for 2020/21

Cauley-Stein could have received a more lucrative deal with another team, but opted to join the Warriors for a chance to play with a contender. Unfortunately, that plan has backfired, as Golden State's 4-18 record puts the club in the running for the No. 1 pick in the 2020 draft, not a title.
In addition to being a down year for the Warriors, it's been a bit of a slow start for Cauley-Stein, whose scoring average is down to just 7.5 PPG. Still, he has started 18 games at center for the Warriors and is blocking a career-best 1.2 shots per contest. No contender would target him as a potential starter, but he could have some value as a backup option.
If the Warriors believe Cauley-Stein will likely opt out at season's end and return to the open market, it makes sense to see if they can get anything for him this season. His minimum-salary contract can be dealt without taking any salary back and he could be replaced with a smaller minimum-salary cap hit, freeing up some much-needed flexibility for the Dubs under their hard cap.
Maurice Harkless, F
Los Angeles Clippers
$11MM cap hit; UFA in 2020

Harkless, acquired by the Clippers in one of my favorite moves of the summer, has been starting games and playing consistent minutes for a title contender despite being viewed as a salary dump five months ago. It's still hard to believe that the Clips were able to acquire a first-round pick in the deal that netted them Harkless, who is shooting a career-best 51.0% with a 37.9% three-point rate so far.
As a reliable three-and-D option for the Clippers, Harkless probably isn't on the trade block. However, he's also the only mid-level type player on the roster who would realistically be expendable if L.A. wanted to acquire another piece.
Lou Williams ($8MM) and Montrezl Harrell ($6MM) aren't going anywhere, and it seems relatively safe to assume Patrick Beverley ($12.3MM) and Ivica Zubac ($6.5MM) aren't either. That leaves Harkless as the only other player on the books with a cap hit between $5MM and 32MM. Throw in the fact that he's on an expiring contract and he's the most logical salary-matching piece the Clippers have.
Of course, there's a decent chance the Clippers simply stand pat at the deadline and hope that possible reinforcements emerge in the following weeks on the buyout market. In that scenario, Harkless is a good bet to finish the season with the club.
Revisit the rest of our 2019/20 Trade Candidate series right here.
Photo courtesy of USA Today Sports Images.