As teams trim down to 85 players, it's mostly been smaller-name UDFA types getting let go so far. But some relatively well known veterans are also getting the boot, including James Burgess.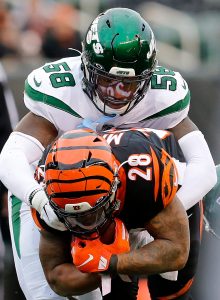 The 49ers announced they were cutting the linebacker on Monday. Burgess signed with the team back in May, but the addition over the weekend of fellow inside linebacker Mychal Kendricks made him expendable. A 2016 UDFA from Louisville, Burgess became a nine-game starter for the Browns in 2017.
He eventually latched on with the Jets as a waiver claim, and started 10 games in New York in 2019. Let go again at final cuts in 2020, he spent some time on the Falcons' practice squad and played in a few games with the Packers. Despite having already been on the roster for nine different NFL teams, Burgess is still only 27.
He's always managed to resurface quickly in the past, so don't be surprised if he does again this season.
Photo courtesy of USA Today Sports Images.