The 2021 NFL Draft is right around the corner, and the first two picks are more or less set in stone. Trevor Lawrence and Zach Wilson are widely expected to be picked first and second respectively by the Jaguars and Jets. The big question has been what the 49ers will do at three, and their decision will set the table for the rest of the draft.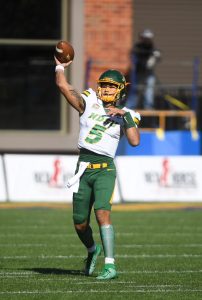 Now, we're starting to get a better idea of what San Francisco is going to do. The 49ers are down to Alabama's Mac Jones and North Dakota State's Trey Lance, sources told Ian Rapoport of NFL Network (Twitter link). That would rule out Ohio State's Justin Fields, who was seen as the other contender to be taken third overall. Jones is the favorite, while Lance has been not far behind through the process.
When the 49ers pulled off their shocking trade to move up to number three and draft an eventual Jimmy Garoppolo replacement, Jones quickly emerged as the rumored target. Some found it difficult to believe that Jones, unheralded as an NFL prospect before 2020, would really be Kyle Shanahan's preference at number three.
But that's what most of the reporting has consistently indicated, whether college football fans want to believe it or not. Many believe that Shanahan has fallen in love with Jones' pocket presence and footwork. Lance is the far superior athlete, and is viewed as having sky-high upside while at the same time possibly being a riskier proposition.
The news also means Fields will be there for the taking for the Falcons if they want him at four, or for a potential trade partner with Atlanta. There are still a few days until the draft kicks off on Thursday, but things are beginning to take shape.
Photo courtesy of USA Today Sports Images.