Bigger business resides on the 49ers' contract docket, but the team took care of a lower-profile player Thursday. The 49ers signed long snapper Taybor Pepper to a two-year extension.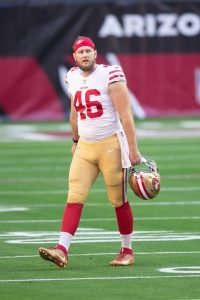 Pepper's agreement includes $300K guaranteed, per Tom Pelissero of NFL.com. The four-year veteran snapper was due to be a free agent in March; he is now signed with San Francisco through 2022.
While long snappers can remain in place with teams for many years, often in anonymity, this marks a change of pace for Pepper. He began his career with the Packers in 2017 but only played in four games. He did not play in 2018, but the Dolphins used him as their full-time deep snapper in 2019. They did not bring him back.
Pepper caught on with the 49ers in late September of last year and snapped in the team's final 12 games. No salary specifics have emerged, but with non-rookie-contract snappers confined to a narrow salary range between $1MM and $1.2MM, Pepper will probably be the latest member of this group.
Photo courtesy of USA Today Sports Images.