Multiple teams are expected to contact the 49ers before and during the draft to inquire about the availability of Jimmy Garoppolo. However, as of this writing, the chances of him being traded are "remote," one source tells ESPN.com's Adam Schefter (on Twitter).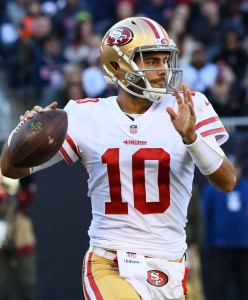 The 49ers have insisted that Garoppolo will be their quarterback in 2021. Beyond that, of course, they'll likely shift the responsibilities to whoever they select with the No. 3 overall pick. Things are further complicated by Jimmy G's no-trade clause. Any team acquiring him would want a restructured contract, but Garoppolo can spike a deal if the terms aren't to his liking.
"The biggest thing with Jimmy is his injuries," head coach Kyle Shanahan said recently. "It's been very tough for us when he's been hurt. This happened two of these three years. That's where it starts. Jimmy knows that. I've been very up front with him with everything…When you take a rookie quarterback and you take a veteran like Jimmy who we know we can win with, just to move on from that is something that's not easy to do. That is a good situation for us and I think that is something that'll be important to us this year."
Last year, the Niners went 3-3 in the six games Garoppolo started. In total, he completed 67.1% of his passes for 1,096 yards and seven touchdowns against five interceptions. That's a far cry from his best work two years ago, when he he racked up 3,978 passing yards and 27 TDs against 13 INTs.
Photo courtesy of USA Today Sports Images.