49ers wide receiver Dante Pettis left practice on Wednesday with what could have been a serious knee injury, luckily, the sophomore wideout's injury appears to just be a sprain that is not a cause for long-term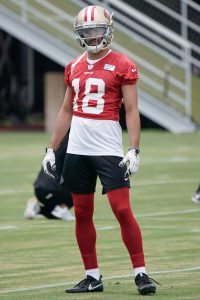 concern, according to Ian Rapoport. The injury does make his status this week uncertain, but should not limit him later in the year.
This season has gone as good as anyone could have expected for the 49ers, but that has not been the case for Pettis. The team's second round pick in 2018 appeared poised for a breakout after a strong finish to his rookie season. However, he found himself at the bottom of the team's depth chart at receiver and has been unable to take advantage of limited opportunities.
In 2019, Pettis has appeared in all 11 49ers games (4 starts) this season and hauled in 11 receptions for 109 yards and two touchdowns. For what it's worth, Pettis only had 11 receptions and 189 yards at this point last season before recording 262 receiving yards in his next four games.
Pettis may be on the border of the 49ers plans going forward, but a season-ending injury could have spelled the end of his time in San Francisco. Matt Barrows of The Athletic reported that either Pettis or wide receiver Marquise Goodwin, who is dealing with minor injuries of his own, will be inactive this week in San Francisco's big game in Baltimore against the Ravens.