After months of precarious conversations and rumors, the 49ers and star wide receiver Deebo Samuel have finally agreed to a new deal. Samuel has landed a three-year extension worth $71.55MM, with a potential maximum value of $73.5MM, according to NFL Network's Ian Rapoport.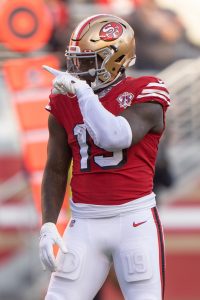 Samuel's annual average value of approximately $23.85MM per year ranks eighth among wide receiver contracts in the league behind Tyreek Hill, Davante Adams, DeAndre Hopkins, Cooper Kupp, A.J. Brown, Stefon Diggs, and recent fellow hold-in participant D.K. Metcalf. As expected, Samuel joins the trend of wide receivers breaking the $20MM per year threshold.
Samuel's feud with the team that drafted him stems back to the early days of the offseason. General manager John Lynch had readily admitted that the team had an extension budgeted for Samuel and defensive star Nick Bosa, but San Francisco's initial offer was out of range enough for Samuel to request a trade. Several teams reached out in hopes of trading for the 26-year-old, with the Jets making a dramatic push around the draft, but, ultimately, no trade unfolded.
At one point, Samuel had removed all references to the team on social media, indicating that the relationship was all but deteriorated, but eventually refollowed the team on Instagram and liked a post in which Lynch claimed the issues between the two parties could be worked out. The team's communication with the media after that seemed to insist that a deal would get done, but as training camp approached, questions on the imminence of a new contract still pressed.
Samuel's "hold-in" can now come to an end. While he had reported to training camp earlier this week, Samuel refused to practice amid his then-ongoing contract dispute. He had reported to minicamp, as well, but didn't participate in any on-field work then either. The "hold-in" was a new concept, a result of the CBA's crackdown on holdouts that would fine Samuel $40,000 for each day he was absent from camp.
With contract discussions in the rearview, Samuel can return focus to continuing his meteoric NFL development. Samuel impressed as a rookie amassing 57 receptions for 802 yards and three touchdowns en route to his teams run to a Super Bowl loss against the Chiefs. Samuel also showed that his impressive athleticism could provide an extra tool as he rushed for three more touchdowns on 14 carries for 159 yards. Samuel's sophomore season was derailed a bit by injury as a fracture in his left foot forced him to miss the first three games of the season. He would miss nine games total that year due to a mix of COVID-19 and a hamstring injury.
Finally healthy again, Samuel exploded for a breakout year last season. Samuel more than doubled his career total recording 1,405 receiving yards on 77 catches for six touchdowns. He continued his dual-threat nature by rushing 59 times for 365 yards and a team-leading eight rushing touchdowns. Some reports indicated that one of Samuel's gripes was his overuse in the run game, but the team supposedly addressed it by adding some depth to the running backs room.
But, now, all the gripes and issues will hopefully be behind the two parties. Samuel got his payday and the 49ers aren't forced to deal one of their most valuable offensive weapons. Between signing Bosa and Samuel to massive extensions, Lynch and the 49ers' brass have had one heck of an offseason.