A pair of high-profile wideouts are staging "hold-ins." ESPN's Adam Schefter reports (on Twitter) that 49ers wideout Deebo Samuel and Seahawks receiver DK Metcalf will not be practicing at training camp due to contract disputes. Both players reported to training camp earlier this week.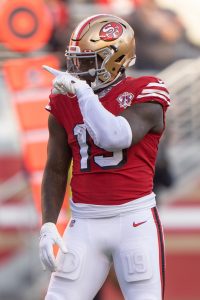 The two receivers are heading into the final year of their respective contracts. Metcalf didn't attend mandatory minicamp, but he incurred only a $90K fine. Samuel reported to minicamp but didn't participate in on-field work, leaving the door open to a potential hold-in scenario. If the two players engaged in a traditional holdout, they'd face fines worth $40K for each day they were absent. The CBA's recent holdout crackdown also includes a measure that would strip players of a year of service time toward free agency after barely a week's worth of absences. Samuel and Metcalf will avoid these penalties by attending training camp but refusing to participate.
According to Cam Inman of the San Jose Mercury (on Twitter), Samuel conditioned on the sideline while the rest of his team participated in drills today. Meanwhile, the 49ers front office and Samuel's agent considered to negotiate a deal.
"Hopefully we can figure something out soon, but we're in a good place today," Kyle Shanahan told reporters shortly after speaking with Samuel (via Inman).
Samuel is expected to join the ever-growing club of receivers signing deals averaging at least $20MM per season. Bridging the gap between Samuel's original asking price and the team's best offer to date has, naturally, been seen as a key milestone in helping repair relations between the two sides after the 26-year-old's April trade request. Still, there's a clear divide when it comes to the player's value.
Metcalf doesn't have to look very far to find inspiration for his hold-in, as teammate Jamal Adams staged his own last offseason. Adams returned to the field once he received a record-setting contract. Metcalf shouldn't expect to reset the market at receiver, but the impending free agent should still be able to secure a lucrative multiyear deal. Metcalf's decision to skip minicamp surprised some in the organization, but both Metcalf and Pete Carroll have expressed optimism about an extension being finalized. Though, this process is not expected to be wrapped up early in camp. Late last month, a report emerged indicating a Metcalf deal "hardly seemed like a slam dunk."