49ers wideout Deebo Samuel, who is set to enter a contract year, wants to capitalize on the seismic shift that the league's receiver market has undergone this offseason. Even before draftmate A.J. Brown landed a $25MM/year deal from the Eagles, Samuel was eyeing that benchmark, and now it seems as though San Francisco will have to pony up that kind of cash if it wants to extend the 2021 First Team All-Pro.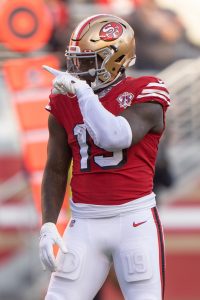 It's unclear where extension negotiations stand at the moment, but it continues to seem likely that Samuel will remain with the Niners for at least the 2022 campaign. The club rebuffed all trade inquiries in the run-up to the draft in April, and while Samuel was not present for voluntary OTAs, he did appear for mandatory minicamp (unlike another platform-year peer, D.K. Metcalf). Earlier this month, we heard that player and team were still engaged in contract talks, and the fact that Samuel should not need to be utilized as a between-the-tackles runner this season may help push the two sides closer to an accord.
Further, Jeremy Fowler of ESPN.com reports that there is "not a lot of league-wide chatter" about a Samuel trade at the moment (Twitter link). Samuel has not formally rescinded his trade request (as far as Fowler knows), but it sounds like rival clubs who might be interested in the South Carolina product believe there is no point in engaging the 49ers in trade talks.
Speculatively, it could be that Samuel realizes re-upping with the 49ers this summer is his best option, as long as he can get close to his current fair market value (which Spotrac estimates to be just shy of $25MM per year). If he stages a "hold-in" at training camp, the club could attempt to prevent him from accruing a fourth year of service time, which would make him a restricted free agent in the 2023 offseason. And, while the team could waive or reduce any fines he accumulates by holding out of training camp — since he is still tethered to his rookie contract — holding out obviously comes with the same service time risks as a hold-in.
If he simply rejects the 49ers' best offer and opts to play out the final year of his rookie contract in the hopes of hitting free agency in 2023, he would be betting his future earnings to a large extent on the right arm of an unproven second-year passer in Trey Lance (to say nothing of San Francisco's franchise tag rights). If Samuel fails to replicate his tremendous 2021 performance — 77 catches for 1,405 yards and six scores, good for a league-best 18.2 yards-per-reception, to go along with 59 carries for 365 yards and eight TDs — his market value could certainly take a dip.