Falcons center Alex Mack is 35 now, but it doesn't sound like retirement is anywhere near his mind. In fact, the impending free agent appears to already be thinking about destinations, and has an interesting one in mind.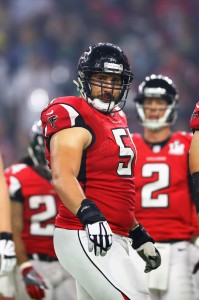 Mack called playing for the 49ers "very enticing" when speaking with Matt Maiocco of NBC Sports this past week. Mack specifically singled out Kyle Shanahan, who he played under in 2014 with the Browns and 2016 with the Falcons. "Kyle is an incredible coach," Mack said. "He's an incredible coach, great person, strong motivator and runs an offense that is something that I'd know really well and that I performed very well in."
The interest is clearly there on Mack's side, and since the 49ers have a lot of uncertainty at center right now, it could be a perfect match. Weston Richburg, San Francisco's normal starter, missed this entire past season after suffering a devastating knee injury late in the 2019 campaign. He has two years left on his deal but it's unlikely he's back at his hefty $8MM+ salaries, and as Maiocco points out the team can save nearly $5MM by cutting him this offseason.
Ben Garland became the 49ers' starter, but he's a journeyman who got himself injured as well after just a handful of games. A first-round pick out of Cal back in 2009, Mack is a six-time Pro Bowler and three-time All-Pro who made the NFL's all-decade team for the 2010s at center.
Despite his somewhat advanced age he's been durable, starting 14 games this past year and all 16 in 10 of the previous 11. Mack got five years and $45MM from Atlanta last time he hit free agency and while his next contract won't be quite as lucrative, he should still command a decent amount of money from the 49ers or any other team.
Photo courtesy of USA Today Sports Images.