The Colts currently have two kickers on their roster. They claimed rookie Chase McLaughlin off waivers from the 49ers, calling Adam Vinatieri's status into question.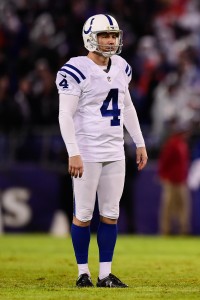 To make room on their 53-man roster, the Colts waived tight end Matt Lengel. McLaughlin served as a replacement kicker for both the Chargers and 49ers this season. The latter waived him Tuesday.
Vinatieri has trudged through a brutal season and is now on the Colts' injury report with a knee issue. He made it through a limited practice Wednesday. Considering Vinatieri's injury- and performance-related concerns, McLaughlin looks set to kick for a third team this season.
In his 14th year with the Colts, Vinatieri has missed eight field goals and six extra points. The future Hall of Famer's ineffectiveness has undoubtedly affected Indianapolis' position in the standings. The 46-year-old specialist missed two kicks in Week 13, with one being blocked and returned for a touchdown.
The 24th-year veteran resisted an early-season retirement but has not found the rhythm from prior seasons. His 68% connect rate is the worst of his career, so it will be interesting to see if the Colts carry two kickers into their Week 14 game.
McLaughlin has made 13 of 17 field goals, with all four misses coming from between 40-49 yards, and was successful on all 15 of his extra point tries. The 23-year-old Illinois alum made the only 50-yard kick he's attempted as a pro.
Photo courtesy of USA Today Sports Images.