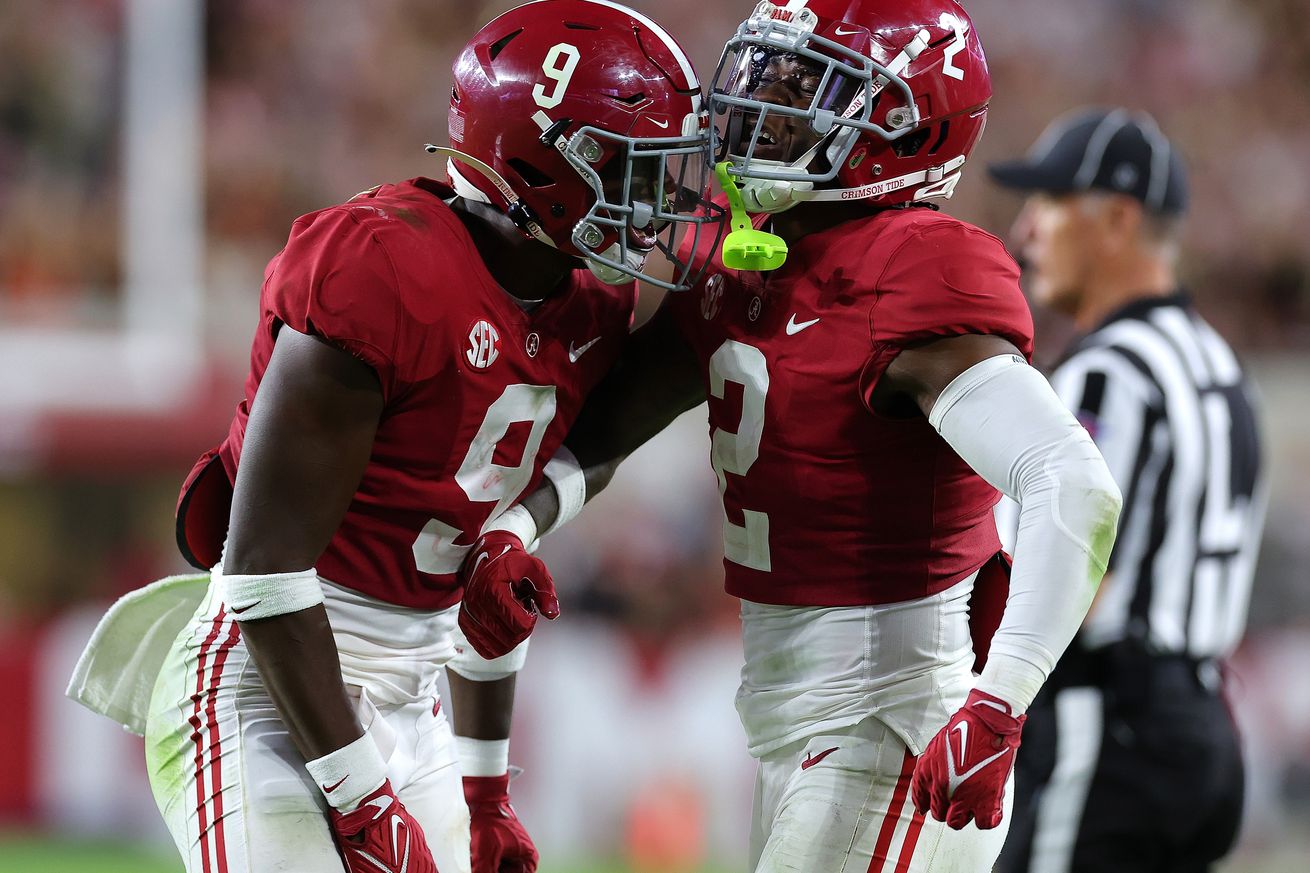 DeMarrco Hellams and Jordan Battle both boast intriguing skill sets.
Since Kyle Shanahan and John Lynch took over as head coach and general manager of the 49ers, they have largely avoided picking players from a perennial college powerhouse that has seen its prospects dominate the NFL Draft in the 21st century.
Twenty-three Alabama players have been selected in the first round since 2017, with just one of those picks made by the Niners.
That came in the first year of the Shanahan-Lynch regime, as San Francisco selected linebacker Reuben Foster with the 31st overall pick. Foster, who had previously received a glowing endorsement from Nick Saban, did not even last two seasons with the team before continued off-field issues led to his release.
The 49ers have not picked an Alabama player since, though they did sign safety Jared Mayden as an undrafted free agent in 2020.
It would perhaps be an oversimplification to suggest the unfortunate Foster episode is the reason why the Niners have eschewed Alabama players under Lynch and Shanahan. After all, they did attend Mac Jones' pro day workout when deciding which quarterback to select in the 2021 draft.
Yet, the 49ers' apparent unwillingness to take talent from the pre-eminent production line of prospects in the modern era is a curious subplot of Shanahan and Lynch's time with the team.
And it will be one worth monitoring as focus turns to this year's draft, in which there are a pair of Alabama safeties who should be on San Francisco's radar.
Alabama defensive backs have the benefit of playing under one of the best secondary coaches of all time in Saban and, if the 49ers are looking to get a succession plan in place at safety having signed Tashaun Gipson to another one-year deal to partner Talanoa Hufanga, they will likely need to give serious consideration to ending the wait for a first Crimson Tide pick since Foster and selecting one of DeMarcco Hellams and Jordan Battle.
But how would they fit in to the San Francisco defense?
DeMarcco Hellams
Hellams has flown under the radar during the pre-draft process in comparison to Battle and Brian Branch, the ultra-versatile potential first-round defensive back.
And, for a team that may look to play more single-high coverages as the 49ers transition from DeMeco Ryans to Steve Wilks at defensive coordinator, Hellams probably doesn't have the skill set of an eventual starter at the position for San Francisco.
Hellams lacks the range to excel consistently playing the deep middle, with Alabama's game against Tennessee and Jalin Hyatt one he will want to forget. On top of that, he can be a little late to trigger to the ball when reading the quarterback's eyes and is often drawn too far towards the line of scrimmage by play-action.
While his eyes may therefore be an area of concern, Hellams has the physicality and ball skills to find a role at the highest level.
Hellams is at his best when working downhill. He transitions quickly to break downhill towards the ball when operating in zone coverage and is aggressive in his run support from deep, displaying thump in taking on blockers and finding the football.
The open-field tackling of Hellams would appeal greatly to a 49er team that highly values secondary defenders who can contribute in run support. Hellams consistently squares himself and wraps up ball-carriers, displaying the awareness to slide down the legs to bring them down by the ankles if his initial effort fails.
Similarly, the 49ers should be intrigued by Hellams' ball skills. He had 13 pass breakups and four interceptions over his final two seasons, numbers that owe a great deal to his ability to find the ball early when defending downfield.
Demarrco Hellams is at his best playing downhill, but he also tracks the ball well and can make plays at the catch point. Finds the ball early and does just that here. pic.twitter.com/QNJ5g6X5Jd

— Nicholas McGee (@nicholasmcgee24) March 26, 2023
Hellams is unlikely to be a fit with the 49ers as a deep safety. However, he projects well as a versatile defender with the physicality, coverage ability and strength at the catch point to hold up in the slot and the prowess as a downhill run defender to play down in the box as a de-facto third linebacker in a league where the lines between that position and safety are increasingly blurred.
He may not have the physical gifts to be a long-term starter at safety, but Hellams is a player who fits the 49ers' fast and aggressive style of defense and whose experience lining up in various areas of the field may facilitate more 'big nickel' looks. As a day-three prospect, he brings a lot of potential value.
Jordan Battle
Battle is not as consistent of a tackler as Hellams but, for teams looking for a future starting safety, he checks most of the boxes.
At 6ft 1in and 209 pounds, Battle is surprisingly fluid in coverage, rarely struggling to stay in phase and consistently displaying impressive composure when defending one on one.
He is a little rangier than Hellams, but what sets Battle apart from his teammate is his processing ability.
Battle is composed and moves extremely smoothly as he covers the out and up, and has some words for the receiver.

He brings a really nice mix of size and coverage ability that should help him see the field early in the NFL. pic.twitter.com/pduJByvpA2

— Nicholas McGee (@nicholasmcgee24) March 26, 2023
Battle plays extremely well with his eyes. He excels at reading both the eyes of the opposing quarterback and the routes of receivers in front of him to pick up coverage assignments and diagnose where the ball is going.
His read-and-react quickness is far superior to that of Hellams, with Battle rarely wasting any time in triggering downhill when working from deep.
Jordan Battle is assignment sound and plays really well with his eyes.

Drops down and is alert to the route over the middle but calmly adjusts to pick up the downfield route from the RB and turns his hips fluidly to get in position to potentially make a play on the ball. pic.twitter.com/EHM8wCYtjI

— Nicholas McGee (@nicholasmcgee24) March 26, 2023
With six interceptions, including two that were returned for touchdowns in 2021, and 10 pass breakups in his college career, Battle has proven he can effectively cover pass-catchers while playing as a deep safety and a slot defender.
Though his run support is an area where he has room for improvement, Battle's most significant asset is one prized by the entirety of a passing-dominated league.
Battle's skill set is more conducive to flexibility in coverage than that of Hellams and, assuming he can make the necessary strides as a run defender, there is little to stop him blossoming into a high-floor NFL starting safety.
As such, he would be an ideal heir apparent to Gipson. However, with Battle ranked 73rd on Pro Football Focus' big board, the 49ers may have to trade up if they desire finally to pick an Alabama player again by penciling him in as their future at free safety.