The Dolphins have agreed to trade the No. 3 overall pick to the 49ers for the No. 12 pick, a 2021 third-rounder, and first-round picks in 2022 and 2023 (Twitter link via ESPN.com's Adam Schefter). The Niners may use the choice to select their next quarterback, though sources tell Schefter that Jimmy Garoppolo will be staying put.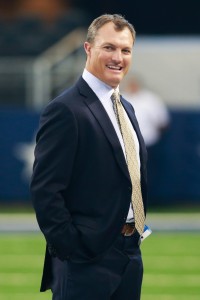 Meanwhile, the Dolphins quickly pivoted towards another blockbuster of their own, dealing that No. 12 overall choice, No. 123, and a 2022 first-round pick to the Eagles in exchange for Nos. 6 and 156. In effect, the Dolphins secured future first-round ammo in exchange for moving from No. 3 to No. 6. From here, the can use their bevy of picks to build around Tua Tagovailoa — or swing another blockbuster for a veteran QB.
The 49ers are moving to No. 3 with the expectation that the Jaguars will take Trevor Lawrence first overall. At No. 2, many believe the Jets will go QB as well — perhaps BYU's Zach Wilson or Ohio State's Justin Fields. After that, the Niners would have their pick of the litter. Even if Garoppolo remains, they could weigh Wilson or Fields (depending on which is still available), North Dakota State's Trey Lance, or Alabama's Mac Jones.
At No. 12, the Eagles are unlikely to have most of those QBs on the table. By dropping six spots, it appears that the Eagles are ready to move forward with Jalen Hurts in 2021. They also have a 2022 first-round pick — the Dolphins' original choice – that they can use to fill other gaps. The Birds have been connected to Wilson for a while. But, as NFL.com's Ian Rapoport explains (Twitter link), GM Howie Roseman ultimately felt that adding a future first-rounder would be better for the team in the long run.
Photo courtesy of USA Today Sports Images.