The 49ers excused Jimmy Garoppolo from their minicamp this week; their four-plus-year starter would not have been able to contribute much anyway. Kyle Shanahan said the excused absence stems from the team wanting Garoppolo to continue his rehab uninterrupted, per ESPN.com's Nick Wagoner (on Twitter).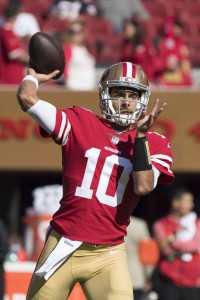 Garoppolo, who is training in southern California, is expected to be ready to throw again in early July, Shanahan adds. This aligns with the veteran quarterback's timetable from March, when he underwent surgery on his throwing shoulder. No setbacks having occurred is certainly critical for the 49ers, who have attempted to trade Garoppolo for months. His surgery and Baker Mayfield's procedure on his non-throwing shoulder have affected the QB trade market.
Calf and thumb injuries also limited Garoppolo last season, with the latter requiring surgery as well. But the shoulder issue has lingered longest. It has led to the 49ers carrying a $26.9MM cap charge on their payroll. Shanahan and John Lynch have said Garoppolo remains a trade asset at this point, though each has backstopped that assessment by offering a reality in which the ninth-year veteran remains a 49er. That will be financially difficult for the team, with Nick Bosa and Deebo Samuel up for extensions, but Garoppolo staying also gives the 49ers insurance against Trey Lance struggling to show starter-caliber stuff.
Mayfield has been frequently linked to the Panthers and Seahawks. Both teams are balking at Mayfield's $18.9MM fifth-year option salary, which is fully guaranteed. The Browns will need to pay most of that to complete a trade. It will be interesting to see what the 49ers are willing to do, salary-wise, to facilitate a Garoppolo deal. One season remains on his 2018 extension.
Garoppolo's shoulder injury effectively paused his trade market, which was once expected to produce a deal in March. San Francisco once targeted a Day 2 pick in a trade. Barring a major QB injury in training camp, that looks unlikely. It appears the Garoppolo standstill will continue for at least another month. Barring a deal in the next several weeks, Garoppolo suiting up for a fifth 49ers camp is a realistic possibility.