After considering the prospect of throwing for teams again, Justin Fields has decided to do so. The high-end draft target will throw for teams again April 14 on the Ohio State campus, Matt Barrows of The Athletic tweets.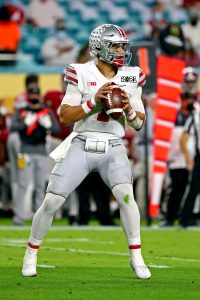 49ers staffers are expected to attend the session, according to Barrows. This comes after Fields' previous pro day, March 30, overlapped with a Mac Jones throwing session at Alabama. Kyle Shanahan and John Lynch opted to watch Jones throw, while 49ers assistant GM Adam Peters observed Fields' workout. This time, it should be expected the top two 49ers power brokers will watch Fields in Columbus.
The 49ers shook up the draft by acquiring the Dolphins' No. 3 overall pick. They made no secret of the fact the move was for a quarterback. Shanahan said late last month he was already comfortable that three QBs in this year's draft could be the 49ers' long-term answer. While it is uncertain if Fields is one of them, the talented passer agreeing to another pro day would point to him believing that is not the case.
Three-plus weeks ahead of the draft, the 49ers have been linked most closely to Jones. Fields will attempt to boost his stock with the 49ers and with other QB-needy teams next week. The two-year Buckeyes starter was once believed to be the 1A option behind only Trevor Lawrence, but Zach Wilson has likely surpassed him — being the favorite to go to the Jets at No. 2. Fields could be waiting a bit come draft night, though considering his talent and several teams' need for a long-term quarterback solution, the 22-year-old talent's floor likely remains high.
It is uncertain if Trey Lance, who was also believed to be considering another showcase, will follow Fields and throw for teams a second time. No private workouts are allowed this year, marking the second straight offseason that is the case. Shanahan and Lynch admitted they stayed away from North Dakota State's pro day in order to avoid tipping their hands. Lance's workout took place before the 49ers acquired the No. 3 pick.
Photo courtesy of USA Today Sports Images.