In moving up to No. 3 overall, the 49ers shook up the draft late last month. They revealed the move was for a quarterback, and Kyle Shanahan added that he is already comfortable with three passers in this draft. The fifth-year San Francisco HC added that he could get there with the other two top QB prospects as well.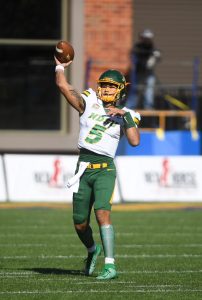 It is not known which members of this draft's quarterback quintet fall into which category, but two prospects are considering adjusting their offseason itineraries as a result of the 49ers' trade. Justin Fields and Trey Lance are considering staging second pro days in order to throw in front of top 49ers brass, Albert Breer of SI.com notes.
Neither Shanahan nor 49ers GM John Lynch attended North Dakota State's pro day March 12, with the team's top two power brokers not wanting to tip their hands ahead of the trade. Ohio State's pro day occurred on Tuesday, overlapping with Alabama's second pro day. Shanahan and Lynch opted to trek to Tuscaloosa for Mac Jones' workout, though it was expected Shanahan would meet with Fields at some point as well. Shanahan confirmed Jones is under consideration for the No. 3 pick, per NFL.com's Ian Rapoport (video link).
With the COVID-19 pandemic nixing private workouts for a second straight year, any additional throwing sessions would need to be on campus and would be open for all teams to attend. It would certainly be interesting if Fields and Lance conducting additional pro days with the purpose of auditioning for one franchise, but the Jaguars and Jets have been heavily connected to Trevor Lawrence and Zach Wilson. The 49ers' direction is less certain, though Jones has recently been linked by multiple experts to go third overall. ESPN.com's Todd McShay now mocks Jones to the 49ers. Prior to the trade, Mel Kiper Jr. had Jones falling to No. 15.
Should the 49ers draft Jones, Fields and Lance could fall out of the top five. But neither should be expected to drop too far, with several teams — both in and out of the top 10 — in need of a hopeful franchise quarterback.
Photo courtesy of USA Today Sports Images.