Even up until the day of the 2021 Draft, it was still uncertain which QB the 49ers would take with the No. 3 pick. Our final report on the subject indicated that the decision was down to the team's eventual pick, Trey Lance, and Alabama's Mac Jones, who ended up going to the Patriots at No. 15.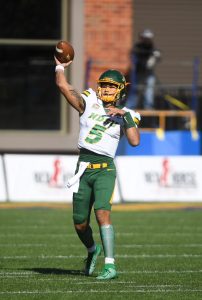 During a recent appearance on the "Flying Coach" podcast, 49ers head coach Kyle Shanahan seemed to indicate that the team did seriously consider Jones before ultimately choosing Lance.
"I think either one would have been a good decision," Shanahan said (h/t Yahoo's Josh Schrock). "Like, you're not moving up if you don't feel good about both of those. And if it had just been one then we probably would have said no — well, we probably wouldn't have said that because it's still risky. But we really — either one of those players would have been a great pick, in my opinion. And the third guy with Justin [Fields], he would have been a great pick. It's just what direction do you want to go.
"There's so many things that go into it and you've got to make that decision. But I didn't blame people at all for thinking it would be Mac Jones. Because Mac Jones deserves that. He's that good of a player and he put it on tape for a whole year, and everyone did want to relate me to Kirk [Cousins] because that's the only guy that I was openly going for as a free agent, so people talk about him. But Trey brought another element. And it doesn't mean he's better or worse. It just means he brought another element that over the course of us studying it really intrigued us, and that's a direction I would love to go and have always wanted to go.
"But the guy has got to be able to do it all, and Trey sold us that he could and that's why I'm excited to work with him and it's up to us to get him to do it."
After acquiring the No. 3 pick from the Dolphins for No. 12 and a pair of future firsts, the 49ers never really showed their hand, but it sounds like the team was sincerely exploring all of their potential options. As Shanahan noted, the 49ers seemed to value Lance's diverse skill set, something that was especially evident during a 2019 collegiate season where the quarterback ran for 1,100 yards. For comparison's sake, Jones had 42 rushing yards throughout his entire college career.
While Lance will eventually be under center for his new team, it sounds like the team is going to give Jimmy Garoppolo every opportunity to win the starting gig.
Photo courtesy of USA Today Sports Images.