During a year of major quarterback movement, the 49ers experienced a particularly interesting offseason. San Francisco surrendered a historic haul to move up for Trey Lance. Had the Matthew Stafford sweepstakes ended a bit differently, Lance would be preparing to take the starting reins for another team.
Kyle Shanahan confirmed the 49ers were in the mix for Stafford. The fifth-year HC spent multiple weeks studying Stafford, whom the Lions made available in late January. The 49ers are one of several teams to be interested in the former No. 1 overall pick, but the Rams ended up finalizing an agreement to land him on the night of Jan. 30 — to Shanahan's chagrin.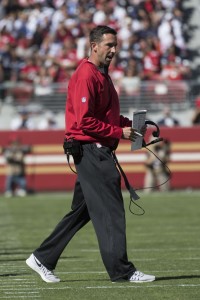 "I was studying it all. … I remember looking through it because everybody was telling me it was a possibility," Shanahan said, during an appearance on The Ringer's Flying Coach podcast with Sean McVay and Peter Schrager (via NFL.com), of a potential trade to acquire the 12-year veteran. "Stafford's the man. I studied him hard coming out of college, and you always play against him, so you know how good he is.
"But to know he might be available and to spend two weeks really watching him, Sean, yeah, he's better than I realized."
The 49ers are not believed to have made a firm offer for Stafford, but the 33-year-old passer knew of San Francisco's interest. Washington and Carolina did make offers — each involving first-round picks and change — while Denver's proposal included a first-round pick swap. At least six teams sent the Lions proposals. The Rams ponied up for Stafford to replace Jared Goff, sending Goff, two first-rounders and a 2021 third for Detroit's longtime starter.
"That was frustrating. I was in Cabo," Shanahan said of the Rams' acquiring Stafford, who joined McVay in Cabo San Lucas, Mexico, at the time of the agreement as well. "… I remember Saturday I was so stressed out and finally we talked to someone, it was seven at night, and they're like, 'No, nothing's happening (with a trade) at the earliest until tomorrow, so you can finish your night.'
"Half an hour later, my buddy calls me and is like, 'I'm just telling ya, if you want Stafford, you need to get a hold of him right now.' I'm like, 'What do you mean? We just talked to people. I can sleep on this. We'll talk to them tomorrow.' 'I'm just telling you, you need to talk to him right now.' And then it was all over."
McVay added that the Rams-Lions trade came together faster than he expected. The Rams are now eyeing a five- to eight-year partnership with their recently acquired QB.
January's Stafford proceedings led the 49ers to look to the draft for a potential upgrade on Jimmy Garoppolo. They joined the Rams in trading their 2022 and '23 first-round picks for a quarterback, sending those to the Dolphins to move up nine spots for Lance. If the 49ers' plans go accordingly, the NFC West will feature Stafford-Lance matchups for the next several years. The teams' competition for Stafford certainly adds intrigue to this rivalry.
Photo courtesy of USA Today Sports Images.