If you're expecting fireworks on Thursday night, you may be disappointed. NFL.com's Ian Rapoport notes that he isn't hearing as much trade activity as usual (Twitter link), specifically with day-one picks. The reporter cautions that he could envision a team trading into the top-1o in pursuit of one of the top quarterback prospects, but other than that, the insider isn't hearing a whole lot of first-round-trade chatter.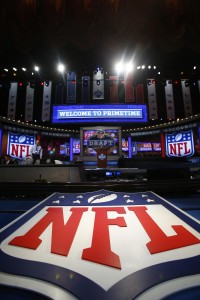 Rapoport offers another explanation for an expected lack of trades. There seems to be a consensus forming that there's a drop-off in prospect quality after the top seven or eight players. As a result, teams are wary of trading back due to the significant drop in "elite, premium" players (the ol' 'take the dollar instead of four quarters' mentality). Similarly, considering there's only seven or eight top players in the draft, teams outside of the top-10 may believe they're better staying put.
Peter King of Football Morning in America offers a similar sentiment. with one GM pointedly telling him that "the 49ers ruined the market by trading two ones to move nine spots." As a result, teams in the top-10(ish) are expecting a king's ransom for their first-round selection, and there aren't a lot of suitors who are willing to spend big. Instead, King suggests that we may see a number of trades during the second day of the draft, with one GM describing No. 35 to around No. 75 as the "hotbed of this draft."
For what it's worth, NFL Network noted that there's been an average of 5.2 trades made in the first round since 2011.
Of course, trade junkies have somewhat gotten their fill already. That aforementioned 49ers/Dolphins trade sparked off another deal with the Dolphins and Eagles.
Photo courtesy of USA Today Sports Images.