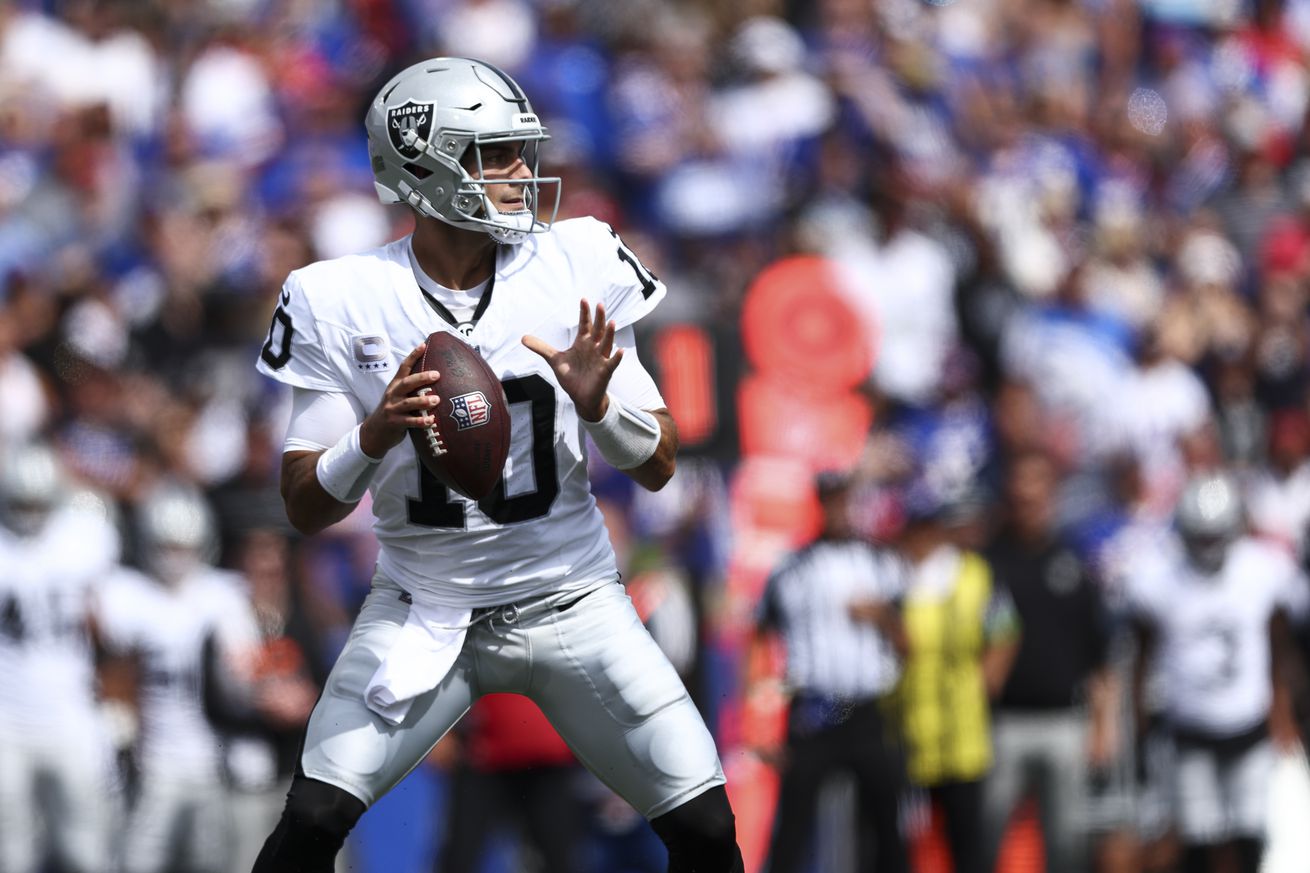 Explaining QB's struggles and returning Raider Nation's questions
Last week was undoubtedly a letdown for the Las Vegas Raiders as that has been the primary focus for a lot of Raider Nation's questions ahead of this Week 3 Sunday Night Football Matchup against the Pittsburgh Steelers. Without further ado, let's get to the mailbag questions!
Q: Wasn't one of Jimmy G's strengths his ability to hit people over the middle of the field? Why has he struggled so much? Looks like he's just looking towards the sidelines.
A: Yes, Jimmy Garoppolo was pretty good when targeting the middle of the field last season as two of his three highest PFF passing grades came on throws to the deep center of the field (96.0) and intermediate center (81.9). (For context, PFF splits the field horizontally and vertically into 12 categories; i.e. 20 yards or more past the line of scrimmage and between the numbers would be 'deep center', 10-19 yards past the LOS and outside the numbers to the left would be 'intermediate outside left', and so on.)
Garoppolo threw past the line of scrimmage and to the middle of the field on 46.6 percent of his 2022 attempts, however, that figure is down to 38 percent this season. What's even more frustrating is his highest-graded area this season is the intermediate center (90.5), but he's only thrown four passes to that spot.
In other words, he's been effective when throwing to the middle of the field, he's just not doing it enough and the film shows that he's turning down a lot of those opportunities. The clip below is a good example as Hunter Renfrow is wide open at the bottom of the Bills logo and Garoppolo opts to check it down.
In order to help the run game Raiders need more explosive plays to get teams out of single-high.

Raiders run their speedo concept(over-Renfrow and dig-Wilkerson) vs the blitz.

both Renfrow and Wilkerson are open with a great pocket. Garoppolo doesn't like it and checks down. pic.twitter.com/Z08LwArzKG

— Marcus Johnson (@TheMarcJohnNFL) September 19, 2023
As to why Jimmy G isn't taking those opportunities, I don't have a firm answer for you as he's the only one who can really explain what's going on in his head. But from my perspective, he's going through his reads too quickly and is getting happy feet in the pocket for no reason.
The Raiders' offensive line has been excellent in pass protection, so he's had plenty of time to let the play develop and rip one over the field, but he ends up going to the checkdown too early. Hopefully, Garoppolo will get more comfortable as the season goes on and he will knock more rust off.
Q: I hate to sound overly emotional but Jimmy has had the best pass pro in the NFL and has pass catchers running wide open but he still won't throw the ball downfield. At what point would/should you just put in Aidan? We know Aidan would let it rip for better or for worse.
A: I get the impatience with Garoppolo and it doesn't help that Aidan O'Connell balled out in the preseason, but I think you have to give Jimmy G at least half the season before making that switch. Trust me, I know it's frustrating to watch him not push the ball down the field when the opportunity presents itself, but it has only been two games so far.
Also, the coaching staff wants to make sure O'Connell is ready before throwing him into the fire, and making a change at quarterback is typically a card you want to hold onto as long as possible. The reason being, if you make that switch and things don't turn around, you don't have any other cards left to play to inject life into your team.
It's like playing 'Uno' and you have a draw four card, you want to hold onto that as long as you can until the situation is just right, i.e. your friend has one card left!
Q: From a film perspective, how would you divide up the blame for the failures on defense? In terms of percentage: personnel; DL, LB, DB, Coaching/Playcall.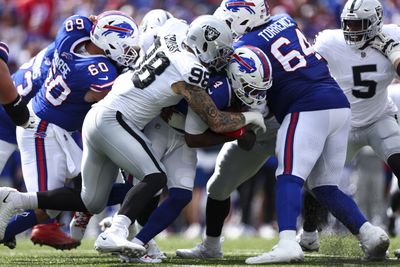 A: I'd probably put about 50 percent on the defensive line, to be honest. They aren't getting much from their defensive tackles against the run and as pass-rushers, and the ends haven't been much better outside of Maxx Crosby. Building on that, even Crosby has had a few moments where he's ducked inside and lost outside contain, he's just made enough plays to make up for those few mishaps whereas the other defensive linemen haven't.
The linebackers shoulder about 15 percent of the blame to me. Robert Spillane and Divine Deablo played pretty well in the season opener, but Spillane missed five tackles in Buffalo and Deablo wasn't bad but more of a non-factor.
Defensive backs are tough for me to put a percentage on because I think the Raiders have gotten good safety play out of Tre'von Moehrig and Marcus Epps, but cornerbacks Jakorian Bennett and Marcus Peters haven't been good. Granted, the lack of pass-rush makes Bennett's and Peters' jobs more difficult. So, I'll go with about 25 percent of the blame for the DBs.
I've actually liked what Patrick Graham has been doing so far as he's gotten back to more of the two-high zone coverages that are popular in the league right now, and he started dialing up more blitzes last week to help the pass rush. However, the defense still has been having too many coverage breaks, so I'd put about 10 percent of the blame on coaching/play-calling.
A: I kind of answered this question with the previous one, but yes, Crosby is the only guy who is consistently winning right now. Malcolm Koonce did have a pretty good first game with limited reps, earning a 25 percent pass-rush win rate on nine opportunities, per PFF, but he dropped down to zero percent on 12 rushes last week. Graham blitzed a lot more in Buffalo than in Denver as Spillane and Deablo combined for five pass rushes in Week 1 and 15 in Week 2, and they each had a sack against the Bills.
So, we'll see how this Sunday goes, but the coaching staff has been trying to create more pressure. Guys like Bilal Nichols, Tyree Wilson, Jerry Tillery and Koonce need to step up and/or be more consistent, in my opinion. That might not be the answer you're looking for, but it's hard for me to put much of the blame on Graham when the majority of their pass-rushers have a win rate below 10 percent.
A: Josh Jacobs did admit that he was a little rusty after Week 1, so he's not innocent, but the offensive line is the much bigger issue to me. Against the Broncos, they were doing a decent job of staying in front of defenders but weren't getting much push. Then when they played a better and deeper unit against the Bills, they were getting blown up at the line of scrimmage.
There were a couple of plays from last week that stand out in my mind where Greg Van Roten got pushed so far into the backfield that I thought he should have gotten credit for the TFL! To put it into perspective and throw a number on it, Jacobs has 46 rushing yards on the season and 54 yards after first contact, per PFF. So he's literally had to create eight yards just to get back to the line of scrimmage.
Byron Young has just kind of blended in, meaning he hasn't stood out good or bad so far, which is in line with why you haven't heard much about him. There's really only been one rookie defensive tackle who was drafted behind Young and has played significantly better than him, Kobie Turner from the Rams. Behind Jalen Carter, Turner has the second-highest PFF grade (78.5) in the draft class. Granted, he plays on the same line as Aaron Donald so Turner isn't exactly the offense's primary concern.
For what it's worth, I graded Young 0.1 points higher than Turner, so they were pretty equal in my mind and it would be hard for me to say I would have drafted the latter over the former.
A: Yes, but they can't afford me. I won't settle for anything less than the nearly $48 million fully guaranteed contract that Quinnen Williams signed this offseason. Let Dave Ziegler know the negotiation starts there.
---
That'll do it for this week's mailbag. Thank you all for submitting questions and, as your weekly reminder, if you'd like to have your questions answered in a future column, tweet them at me, @MHolder95, email them to SBPQuestions1@gmail.com or look for our weekly call for questions on the site. The latter will publish on Thursdays throughout the season.