The Packers' trade of Davante Adams reunited the All-Pro wide receiver with his college quarterback while stripping Aaron Rodgers of his top weapon. The recently dealt wideout confirmed this deal did not come about because of Packers financial stinginess.
Green Bay tagged Adams and presented a more lucrative extension offer than what Adams received from the Raiders, according to the ninth-year receiver. Adams signed a five-year, $141.5MM deal — then a receiver-record figure — to reunite with ex-Fresno State teammate Derek Carr. The eight-year Packer delved into the reasons behind the decision to change teams.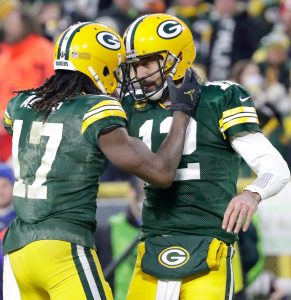 Adams, 29, said last year the uncertainty surrounding Rodgers' Green Bay future affected his extension talks with the team. The new Raiders playmaker confirmed this week Rodgers' status status, even after the reigning MVP's landmark extension, played a role in the trade. Not knowing how much longer Rodgers would play helped lead to Adams heading to Vegas, via The Athletic's Vic Tafur (on Twitter).
Rodgers, 38, signed a record-setting extension in March — more than a week before the Adams trade — but the deal can be viewed as a one-year, $42MM pact. Rodgers has since said retirement is frequently on his mind, and the contract will allow the four-time MVP to revisit his future with the Packers after the season. For all the drama surrounding Rodgers' status over the past two offseasons, it appears 2023 will bring more. Those headlines no longer affect Adams, who will play with a recently extended Carr. The fellow ninth-year vet is going into his age-31 season.
"We had some honest conversations about my future here, and how long I wanted to play, and his own thoughts about his future and where he wanted to play, live and raise his family," Rodgers said, via Ryan Wood of the Green Bay Press-Gazette (via Twitter), of offseason talks between he and Adams. "The team obviously stepped up and made a competitive, or an even more compelling, offer.
"… I'm a little biased, but it's hard to think of a better player I played with. He had a chance to be the all-time [record-holder] in a lot of categories at receiver for us. I thought that might be a little nugget that would kind of keep him here, but Tae made a decision he thought was best for him and his family, and I can't fault him for that at all."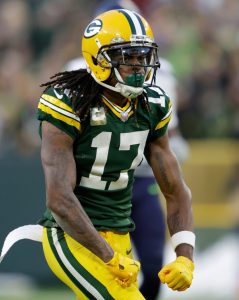 The Packers did well to anticipate Adams' late-20s surge, signing him to a four-year, $58MM extension late in 2017. That deal came just before the Chiefs' Sammy Watkins contract caused a shift in the receiver market. Adams made four Pro Bowls on his second Packers pact and is headed to Vegas riding a two-year All-Pro streak. It is unclear what the Packers offered, but the accomplished pass catcher passing on it to team with a less decorated quarterback proved bold. Though, Adams will still rake in considerable cash and play closer to his California home.
"I'll say it; it was true, OK," Adams said (via SI.com) of the Packers' offer being better than the Raiders contract he eventually signed. "But, like I said, there's more that goes into it. Family is a big part of it for me, so geographically being here it makes it a lot easier for me to stay connected to my family year round. This isn't Year 2. I'm not necessarily trying to 'fight for a job' or anything like that to where you gotta do what you gotta do to stay out there.
"I had the choice, and the choice was for me to come here and raise my family on the West Coast and come out here and have some fun in the sun. It's hard to explain."
Derek Carr's older brother, David, said during an appearance on the Rich Eisen Show that his brother and Adams had been trying to reunite for years, noting "a couple years ago years ago they were really close to making that happen," via Pro Football Talk's Mike Florio. Derek Carr pushing for Adams is unsurprising, given the Raiders' receiver turnover and missteps in recent years. The Raiders will throw out an Adams-Hunter Renfrow–Darren Waller trio, while the Packers are left with questions regarding their pass-catching hierarchy.
Watkins is now one of the players the Packers hope can collectively replace Adams, with second-round pick Christian Watson in this mix as well. Green Bay has not ruled out adding another veteran at the position. Given Rodgers' year-to-year status, acquiring another vet would make sense for the NFC contenders.