Richie Incognito's return from a second full season away from football has gone well. The veteran guard has helped revitalize the Raiders' offensive line, despite being a mid-offseason pickup.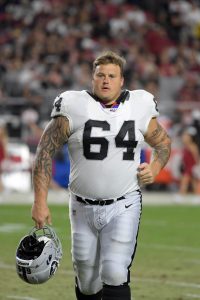 Although Incognito is the NFL's oldest active guard at 36, the Raiders do not want this to be a one-year partnership. The team would like to extend Incognito for the 2020 season, Vic Tafur of The Athletic reports (subscription required). Incognito would prefer that as well.
The sides have discussed the parameters of a deal, per Tafur, but since Incognito signed a one-year deal for the veteran minimum in late May, NFL rules stipulate he cannot re-sign with the Raiders until 2020. A re-up would surely result in a raise for the veteran blocker, considering he's making barely $1MM this season.
Incognito missed the Raiders' first two games due to a suspension but has thrived since. The former Rams, Dolphins and Bills blocker grades as Pro Football Focus' No. 8 overall guard. Taking over Kelechi Osemele's former post, Incognito has helped Josh Jacobs (923 yards, 4.8 per carry) become perhaps the NFL's offensive rookie of the year favorite and keep Derek Carr clean. Football Outsiders' chief run-blocking metric, adjusted line yards, rates the Raiders fourth; Oakland's 15 sacks allowed ranks second in the league.
Should Incognito make the Pro Bowl, it would make him the oldest guard to be honored as such since Bruce Matthews and Ray Brown 18 years ago. While Incognito's polarizing past and suspension history makes him far from a sure bet, Tafur adds the Raiders have been pleased with him as a locker room leader during this 6-4 start. Jon Gruden called the player most associated with the 2013 Bullygate scandal a "steadying force" for the team.
Photo courtesy of USA Today Sports Images.