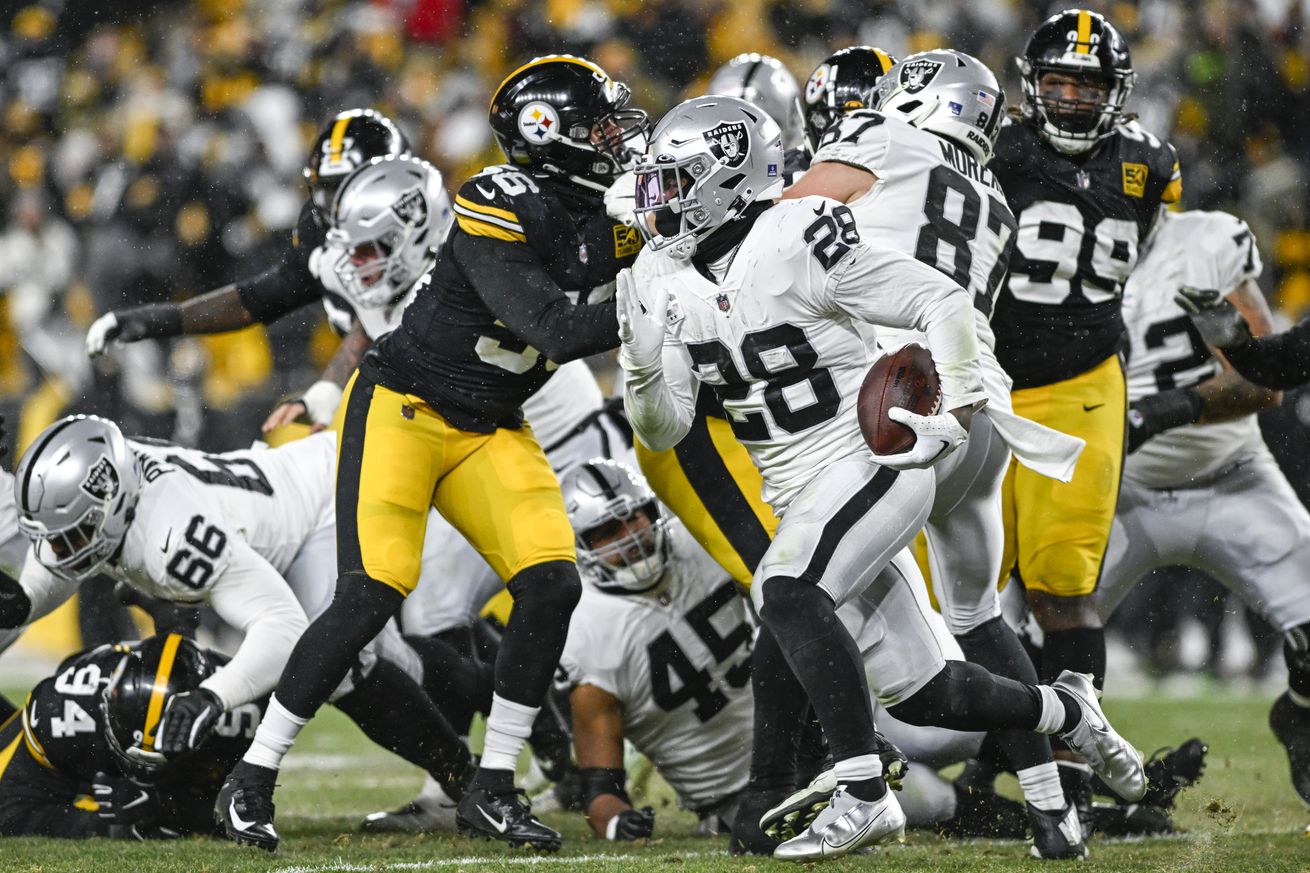 Big opportunity for the RB and the Silver and Black this week
I had a much better performance on the prop bets last week compared to the season opener, hitting two out of my three picks, so hopefully I was able to put some extra cash in your pockets! Moving onto Week 3, the Las Vegas Raiders and Pittsburgh Steelers will add another chapter to their long-standing rivalry on Sunday Night Football as both teams enter the contest at 1-1 and need a win to keep pace in the AFC playoff picture.
The game will kickoff at 5:20 p.m. PT and air on NBC. Below is a look at Silver and Black Pride's best prop bets for the matchup and all odds are courtesy of DraftKings Sportsbook.
Raiders vs. Steelers: Best prop bets
Josh Jacobs, Anytime TD scorer (-115)
Surprisingly, the reigning rushing champ has been held out of the end zone through the Raiders' first two games. However, I think this is the week he breaks through as the Steelers' run defense has been shaky to start the season as they're giving up the most yards per carry (5.6), rank 21st in team run defense grade from PFF (60.6) and have allowed two rushing TDs. While Las Vegas' offensive line hasn't been good in the running game so far, Cameron Heyward is on IR, and the Broncos' and Bills' defensive lines are stronger than the Steelers' without Heyward in the lineup. So, I think Jacobs breaks through and if you're feeling frisky, I also like Jacobs as the first touchdown scorer at +475.
George Pickens, Over 52.5 receiving yards (-115)
Can't say I'd blame you for not taking this one as it likely goes against your rooting interest. But look at it as an emotional hedge and if Pickens does go off, at least you'd be profiting off of it. Plus, the wideout is coming off a 127-yard performance against the Browns, his first game without having to compete for targets with Dionte Johnson, who is on IR. I just don't like this matchup for the Raiders as Jakorian Bennett struggles against physical route-runners and Marcus Peters hasn't quite been himself lately. Las Vegas should still have enough firepower to win the game, in my opinion, but I think Pickens will get his.
Raiders, First drive touchdown (+295)
I'm going for some value here and taking on a little more risk, but the Silver and Black have scored touchdowns on their opening drive of the game in back-to-back weeks, so I'll ride that wave until it breaks. Also, Josh McDaniels is known for having a good first 15-play script as the Raiders typically come out firing on all cylinders…they just fizzle out later in the game. As for the Steelers, they gave up a touchdown to the 49ers on San Francisco's first drive of the game but had a pick-six against the Browns, so it's a 50/50 split so far for them.