While Eric Dickerson is best remembered in Rams and Colts uniforms, the Hall of Fame running back finished his career with two other franchises. Those teams made a deal on this date 28 years ago.
The then-Los Angeles Raiders, who had acquired Dickerson in 1992, traded the veteran back to the Falcons on July 7, 1993. The Falcons sent the Raiders a conditional sixth-round pick for Dickerson. The 10-year vet had visited Atlanta earlier that summer, and the teams soon agreed to a trade that would send him to his fourth and final NFL team. This move came after some key running back developments for both teams.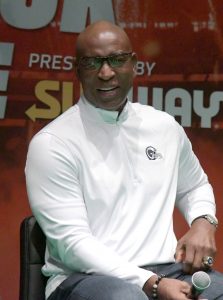 Dickerson was traded three times in his career, not counting the Rams trading up one spot to acquire him at No. 2 overall in the 1983 draft. The SMU product spent four-plus seasons with the Rams, who traded him to the Colts for a monster haul midway through the 1987 season due to a contract dispute. Dickerson delivered the fifth, sixth and seventh 1,000-yard rushing seasons while in Indianapolis, where he won the fourth and final rushing titles of his career (in 1988), but the Colts sent him to the Raiders for fourth- and eighth-round picks in April 1992.
After missing 11 games between the 1990 and '91 seasons, Dickerson played all 16 in his lone Raiders season. He ended up leading the 1992 Raiders in rushing, with 729 yards, and reduced Marcus Allen to a minimal role (67 carries in 16 games). Embroiled in a feud with Al Davis, Allen signed with the Chiefs in June 1993. After rostering two first-ballot Hall of Fame running backs in 1992, two summer 1993 transactions led to the Raiders pivoting to younger players at the position.
The Falcons ranked 27th in rushing in 1992, despite having drafted Tony Smith in the first round, and totaled just three rushing touchdowns as a team. Smith was the player the Falcons selected with the pick they obtained from the Packers in that year's Brett Favre deal. Smith did not receive an NFL carry after that rookie season. Dickerson, however, did not provide much of a stopgap. He played in just four Falcons games (two starts) and amassed 91 rushing yards. Erric Pegram, a 1991 sixth-round pick, ended up surpassing 1,000 rushing yards for Atlanta that year.
Dickerson's final NFL snaps came with Atlanta, but he nearly joined Favre in Green Bay. Atlanta attempted to trade the aging back to Green Bay in October 1993, but a post-trade physical revealed a bulging disk in Dickerson's neck and led the Packers to nix the deal. Dickerson retired shortly after the trade fell through.
He ended his career as the NFL's No. 2 all-time leading rusher, with 13,259 yards. While Dickerson has fallen to ninth on that list, his 2,105 rushing yards (in 1984) remain the league's single-season standard. It will be interesting to see if the NFL's move to a 17-game season will lead to that record falling in the near future.
Photo courtesy of USA Today Sports Images.