Free agency is now just a few weeks away and many teams are already looking ahead to when it opens up.  There will be several prominent players set to hit the open market in late July while many teams have key restricted free agents to re-sign as well. It's been nothing but pain in San Jose the last few years as they try and navigate huge contracts to aging stars.
Key Restricted Free Agents
F Ryan Donato – Donato has failed to live up to expectations for three different NHL teams now, following his first year in San Jose. The Harvard product that set the hockey world on fire in 2018, scoring three points in his first game and nine in his first twelve now has just 77 in 180 career matches. In 50 games with the Sharks this season he scored six times and registered 20 points despite ample powerplay time and relatively easy deployment. He's clearly an NHL talent, but it doesn't look like Donato is ever going to be the consistent top-six contributor that many expected coming out of college. An arbitration-eligible free agent coming off a $1.9MM cap hit, there's actually a chance he doesn't even get qualified by the Sharks.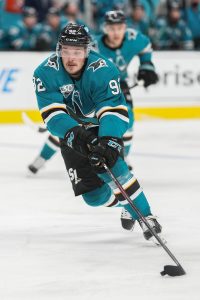 F Rudolfs Balcers – Balcers on the other hand will, even after registering just eight goals and 17 points in 41 games. The key part of Balcers game is his ability to contribute defensively as well as in the offensive zone, and he was rewarded with increased playing time down the stretch. In fact, Balcers had all but replaced other more recognizable names like Kevin Labanc by the end of the year, even moving ahead of Timo Meier on some nights. It seems likely that the Sharks will explore a multi-year deal with the young forward, if only to lock him in at a low number before giving him a bigger role on the team. If not, he is also arbitration-eligible but doesn't have the counting stats to earn a huge raise through that process.
Other RFAs: F Noah Gregor, F Joachim Blichfeld, F Alexander True, D Christian Jaros
Key Unrestricted Free Agents:
F Kurtis Gabriel – You might look at the five career points that Gabriel has and wonder why he would be included in a free agent list, but from all accounts, the physical winger has a market waiting for him. Gabriel was given permission to talk to other teams already according to a report from Elliotte Friedman of Sportsnet last month, meaning he could go quick on day one of the frenzy if the Sharks aren't going to retain him. Now 28, the 6'4″ enforcer racked up 55 penalty minutes in 11 games this season, including 19 in his final game of the year.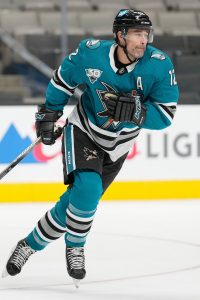 F Patrick Marleau – The ageless wonder is an unrestricted free agent once again and suggested at the end of the season that he would like to play again in 2021-22. Marleau passed Gordie Howe for first place on the all-time games played list, though some still point out that he doesn't have the true record. Though the 41-year-old Marleau has now played the most regular season games in history, he's still 18 games behind Mark Messier for the most NHL appearances including playoffs. With a full season, Marleau could become the first person to ever play in more than 2,000 combined NHL games, as he currently sits at 1,974. He doesn't add much these days, but having Marleau break that record in any other sweater certainly wouldn't feel right.
Other UFAs: F Marcus Sorensen, F Maxim Letunov, D Greg Pateryn
Projected Cap Space
The team has struggled, they only have 16 players under contact and yet San Jose still has just over $9.2MM in cap space to spend this summer. The money owed to the quintet of Erik Karlsson ($11.5MM AAV), Brent Burns ($8MM), Logan Couture ($8MM), Evander Kane ($7MM), and Marc-Edouard Vlasic ($7MM) cripples any chance of making significant changes, and none of those contracts will be off the books until at least 2025. It's hard to see the Sharks making a big splash on the open market unless they find a way to rid themselves of at least one of those veteran players.
Photos courtesy of USA Today Sports Images.  Contract information courtesy of CapFriendly.