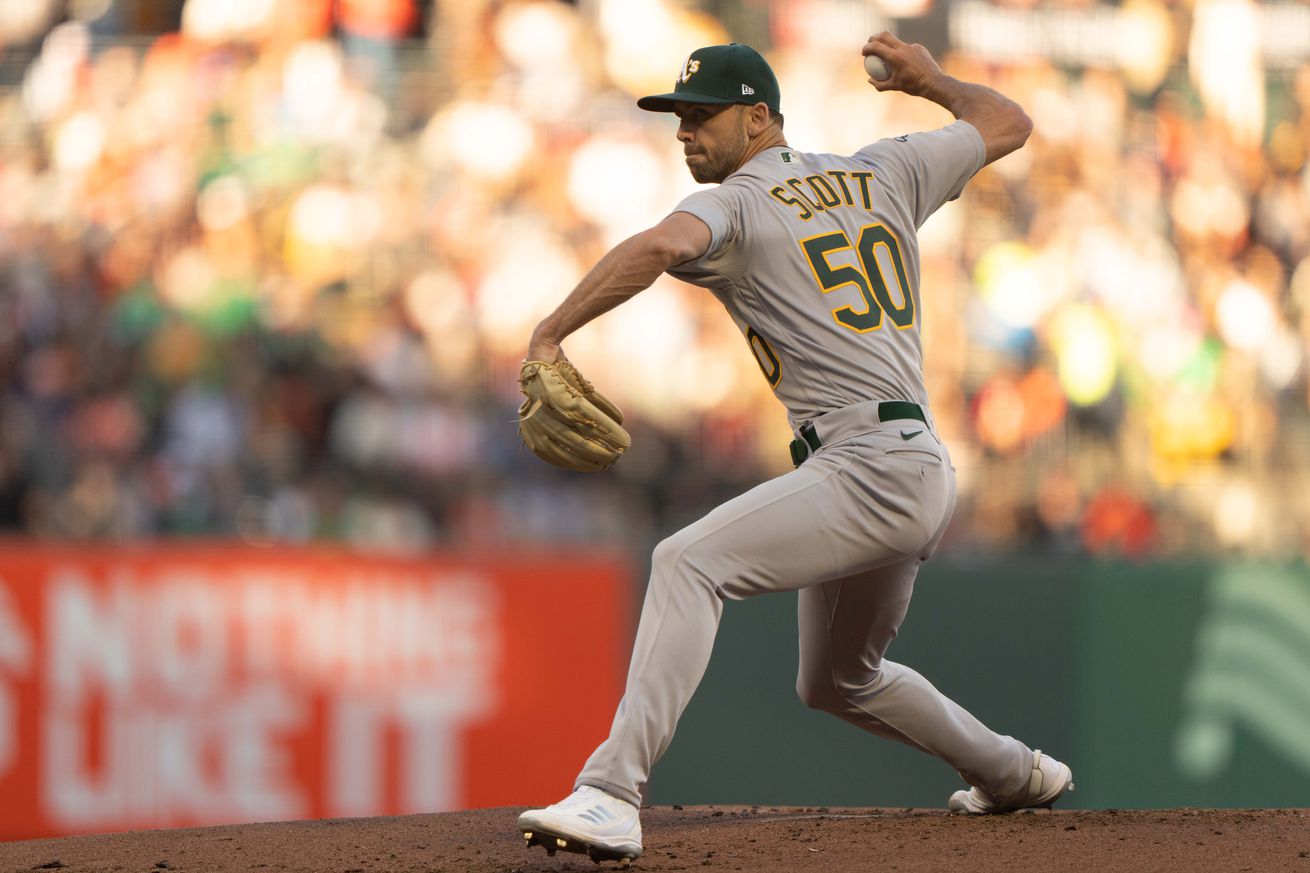 Tayler Scott provided a nice rental for the A's when he was claimed off waivers but is now a free agent.
Tayler Scott was brought into Oakland mid-season when the A's needed the pitching help, and he actually did a nice job out of the pen in just about a month's work. Unfortunately for Scott, there was never much of a long-term spot for him on the staff as he was optioned to Triple-A and is now a free agent.
How Acquired?
Scott was claimed off waivers from the Boston Red Sox on July 19, 2023.
What were the expectations?
A team needing pitching depth at the time, the A's expected Scott to eat up innings in the back end of their bullpen.
2023 Results
Scott was on the A's for eight relief appearances and eight innings from late July and August before being optioned to Triple-A. Scott surrendered 11 hits, three runs, and two home runs in his small sample size, good for a 3.38 ERA. Scott's strikeout numbers weren't off the charts but he walked just two batters in his Oakland stint. Scott was optioned on August 22 because the A's needed to fill his spot with a starter at the time and he was removed from the 40-man roster on November 6. He elected free agency the same day.
What went right? What went wrong?
Scott walked 20% of the batters he faced with the Red Sox this season, and 13.3% with the Los Angeles Dodgers before that to begin 2023. Scott was able to shrink that number down to 5.3% and much closer to the MLB average with the A's which was certainly a victory, and his ERA was the best amongst the three in Oakland because of it. Although the ERA was decent, however, batters still hit the ball hard off Scott statistically, and his fly ball percentage was over 10% of the MLB average.
2024 Outlook
The South African native will head into 2024 potentially on his fourth MLB squad in the last two seasons. Scott is still relatively young at 31 years old and his numbers with the A's were some of if not his best across six teams and five seasons in the bigs. A spring training invitation to go contend for a bullpen spot seems attainable at the very least for Scott, but he'll have to continue to take advantage of his opportunities to make a name for himself in baseball.