The Trey Lance era in San Francisco has officially begun. 49ers coach Kyle Shanahan told reporters today that the team is fully committed to last year's third-overall pick as their starting QB, thus eliminating any QB controversy as veteran Jimmy Garoppolo lingers on the roster.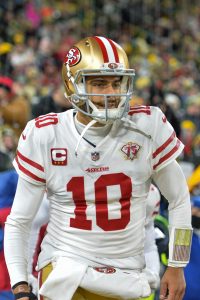 "We have moved on to Trey," Shanahan said (via ESPN's Nick Wagoner). "This is Trey's team. That's nothing against Jimmy. We made that decision a year ago and we're going with that. We're not going to mess around with that anymore. Jimmy understands that fully. That's a business decision and that's what makes it not awkward. Jimmy knows we're going with Trey. Trey knows we're going with Trey and our team does, and everyone likes both of those guys."
It has been known since last April that San Francisco would hand the No. 1 role to Lance no later than his second season in the NFL. A deal sending Garoppolo elsewhere has thus been seen as inevitable throughout a 2022 offseason filled with several major moves at the position. The QB's health obviously played a role in the fact that a trade still hasn't materialized, but with few suitors (if any) on the market, the organization recently gave Garoppolo permission to seek a trade. According to Wagoner, Garoppolo met with Shanahan and GM John Lynch to discuss their next steps today, the first conversation the trio had had since February. Shanhan also told reporters that he'd like to have Garoppolo off the roster as "soon as we can."
"We spoke when he left and we had a pretty good understanding of what was going on, and because of the surgery and the ramifications of that in other teams' eyes, nothing has transpired as of yet," Lynch said. "But he's here, he's reported, we'll see what happens in the physical and we'll move forward accordingly."
Meanwhile, Garoppolo won't be placed on the physically unable to perform list. As Matt Maiocco of NBC Sports Bay Area tweets, the quarterback was cleared today after undergoing his physical. This was the intended plan as Garoppolo continues to recover from offseason shoulder surgery; Cam Inman of the San Jose Mercury tweets that Garoppolo will do his throwing rehab on the sideline while the rest of the team is practicing. Plus, as NFL Network's Mike Garafolo points out (on Twitter), there was little chance the 49ers were going to fail Garoppolo's physical as they continue to seek a trade for the veteran. Today's move also means the 49ers wouldn't be on the hook for the player's $7.5MM injury guarantee if he is ultimately released.
Garoppolo isn't the only major story in San Francisco. We learned earlier today that wideout Deebo Samuel reported to camp despite seeking a new contract. According to NFL Network's Ian Rapoport (on Twitter), the two sides are not close on money, but the two sides are on the same page when it comes to Samuel's role in 2022. The player has expressed a desire to get less carries between the tackles and reduce the wear and tear on his body.