The 49ers have agreed to a five-year, $95MM extension with All-Pro linebacker Fred Warner (Twitter link via Adam Schefter of ESPN.com). The new deal will lock him up through 2026 and make him the highest-paid inside linebacker in NFL history.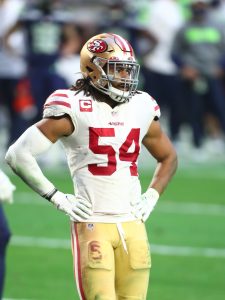 Warner, a former third-round pick from BYU, was previously set to hit the open market next spring. The Niners refused to let him get away, giving him a whopping new deal to top Bobby Wagner as the league's highest-paid ILB. At least, that's the mantle he has right now — Colts star Darius Leonard may top him in the coming weeks.
"I want to get it done personally," said head coach Kyle Shanahan in May when asked about a new deal for Warner. "I kind of feel like I'd say the same about him as I did about [George] Kittle when we were talking about it [last year]. I just see that kind of as a matter of time.
"I know he's not going into his free agent year or anything like that, so that's why it's not always on my mind. But Fred's a guy that I plan on being here forever and who has earned that. I'd be surprised if that doesn't start sooner than later."
Wagner has a perfect attendance record as a pro, playing 95% of the team's snaps over the last three years. He earned first-team All-Pro acclaim in 2020, notching 125 tackles and grading as Pro Football Focus' No. 1 off-ball linebacker (by far).
All along, Warner has said that he wants to be a "Niner for life." Now, at minimum, he has a deal to cover much of his NFL prime.
Photo courtesy of USA Today Sports Images.