49ers quarterback Jimmy Garoppolo hopes to miss "just a couple of weeks" with the right calf injury he suffered on Sunday (Twitter link via Adam Schefter of ESPN.com). An MRI will tell the full story, but Garoppolo will be sidelined for at least a little while.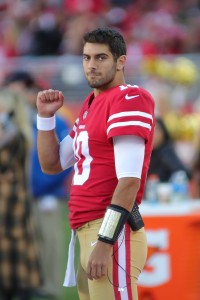 Trey Lance took over for Garoppolo in the latter half of the game, completing 9-of-18 throws for 157 yards and two touchdowns. He also added for 41 rushing yards on seven tries. Ultimately, the 49ers couldn't close the game, losing 28-21 to the Seahawks.
"We've been playing with rookie running backs since the second play of the first game and we've got a rookie quarterback right now," head coach Kyle Shanahan said after the game. "Hopefully, Jimmy is better, and not as bad as we think, but Trey is here for a reason. You want to give him time, you want him to be fully ready, but you don't always have that luxury."
Garoppolo, meanwhile, went 14-of-23 for 165 yards and one TD, scored on the flawless opening drive. Unfortunately, the calf injury slowed him down as the half progressed and ultimately forced him out.
Depending on the severity of his injury, the 49ers may choose to put Garoppolo on short-term IR, which would rule him out for the next three games. In his stead, it'll be Lance starting under center, beginning with their Week 5 tilt against the Cardinals.
Photo courtesy of USA Today Sports Images.