The largest question looming over the 49ers right now remains that of Deebo Samuel's future with the team. In the aftermath of a trade request which did not lead to him being moved, general manager John Lynch spoke recently about his intentions of keeping the wideout.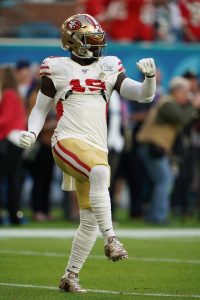 When directly asked about Samuel's future, Lynch said, "We haven't traded him, and I'd be a fool to trade him, so yes, Deebo will be part of the 49ers this season" (Twitter link via ESPN's Adam Schefter). The team's front office has maintained their intention of keeping Samuel, but that statement is the most definitive to date with respect to quashing trade talk.
Samuel, 26, formally requested a trade one week before the draft in April. Not surprisingly, several teams showed interest in acquiring him, including the Jets; it was reported that they offered the No. 10 pick for the All-Pro receiver, but there was no point at which San Francisco came close to moving him.
Samuel has only one season remaining on his rookie contract, meaning that Lynch's remarks could still refer strictly to the immediate future. He made it clear earlier in the offseason that the team had budgeted for sizeable extensions with both Samuel and Nick Bosa. However, there is a notable gap in the reported value of San Francisco's initial offer and the terms Samuel is believed to be seeking on his second contract.
The South Carolina alum is currently absent from the team's OTAs, something which has been expected since mid-April. In the absence of a new deal, Samuel will earn just under $4MM, while carrying a cap hit of $4.9MM. His level of play, especially this past season, has led many to believe he will be one of the next beneficiaries of the substantial upward trend in the receiver market around the league. While there is still plenty of time for a deal to be worked out, there is further evidence that Samuel will remain in the Bay Area for at least one more year.