Two of the NFL's highest-profile (non-quarterback tier) extension candidates reside in San Francisco. It appears the 49ers will take advantage of Nick Bosa's rookie contract, one that runs a year longer than Deebo Samuel's.
The prospect of the 49ers tabling a Bosa extension to 2023 surfaced earlier this summer, despite GM John Lynch indicating in February the team has a new deal for the dominant defensive end budgeted. Tuesday, Lynch said the team is now likely to extend Bosa in 2023, Nick Wagoner of ESPN.com tweets.
[RELATED: Examining Bosa's Extension Path]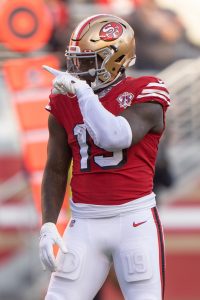 Because of the fifth-year option included in first-rounders' contracts, the 49ers have Bosa signed for two more seasons. Samuel's second-round deal expires after this year. Although the salary cap's rise and the prospect of other edge rusher deals being completed between now and the 2023 offseason invites the prospect of Bosa's price tag rising, the 49ers sound willing to risk that. Bosa is attached to an $895K base salary this season; his 2023 price tag comes in at $17.9MM.
Jimmy Garoppolo's $26MM cap number currently complicates 49ers extension math. So does Samuel's murky status. The 49ers' $4.9MM in cap space sits 31st in the league. Samuel reported to 49ers camp Tuesday, and Lynch called talks with the wideout "substantive," though he cautioned nothing is imminent here (video link). While Bosa signed for $33.6MM guaranteed in 2019, doing so as the No. 2 overall pick, Samuel's rookie deal was worth $7.7MM. The 2020 CBA has largely curbed holdouts, though it has increased "hold-ins" as a negotiating measure. Samuel did not participate in the 49ers' minicamp, which came less than two months after his trade request.
Bosa signing an extension in 2023 would put him on the same track as other pass-rushing standouts. T.J. Watt, Aaron Donald, Khalil Mack and Joey Bosa signed deals ahead of their fifth seasons. Von Miller played Year 5 on the franchise tag before signing a record extension ahead of his sixth season. Myles Garrett, however, inked his current deal ahead of his fourth year. Donald's defender-record $31.7MM-per-year deal represents the current defender standard. Nick Bosa ending up with a deal between Watt's $28MM-AAV pact and Donald's would make sense. Then again, as the QB market regularly shows, less accomplished players frequently surpass monster contracts given to superstars. Bosa is one of the NFL's best defensive players, and despite not quite being on Donald's plane, the fourth-year 49er defensive end producing another strong year would likely lead to conversations about topping Donald's price.
Watt staged a "hold-in" effort last year, passing on team drills during training camp before he signed an extension just before the season. It would be interesting if Nick Bosa followed that path this year, given his low base salary and importance to the 49ers' defense. For now, it looks like the younger Bosa brother will play a fourth season on his rookie contract.