It's a done deal. On Wednesday, No. 3 overall draft pick Trey Lance formally inked his rookie contract with the 49ers.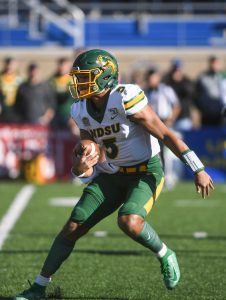 Per the terms of his slot, the quarterback will earn $34.1MM over the next four years. And, as a first-rounder, the Niners will reserve the right to tack on an additional season via the fifth-year option. Lance's deal — completed just before the 49ers' Wednesday morning practice — leaves Jets' No. 2 overall pick Zach Wilson as the last unsigned first-round pick.
The future is bright for Lance, but he'll open the year on the bench. Earlier this week, Kyle Shanahan made it clear that Jimmy Garoppolo is still his QB1.
"Trey's had seven practices with us, and I haven't seen him in 40 days, so I'm not thinking about that right now," Shanahan said. "There's no open competition right now in terms of equal reps with the same group…Jimmy is coming in as the one, and Trey is coming in as the two."
Of course, that'll likely be Lance's job come 2022. Niners GM John Lynch is saying all the right things, but he didn't mortgage all that draft ammo for a professional clipboard holder.
Photo courtesy of USA Today Sports Images.