Josh Rosen is on the move again. The former top-10 pick ended up lasting through just one preseason game in San Francisco, with the 49ers opting to cut him Tuesday, Mike Garafolo of NFL.com tweets.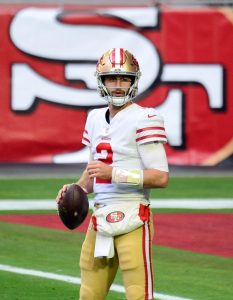 The 49ers poached the UCLA alum off the Buccaneers' practice squad late last season, but signs this relationship was not prospering emerged recently. Kyle Shanahan said Rosen was not impressing in practice, and the once-coveted quarterback prospect noted that he was not seeing much time at 49ers workouts in the first place. Rosen did not impress in the 49ers' preseason opener against the Chiefs.
While the 49ers were open to keeping both Rosen and third-string QB competitor Nate Sudfeld, with the loser being stashed on the team's practice squad, Rosen being cut this early points to him needing to find a new home. The young passer has already been with four teams despite being drafted just three years ago.
The Cardinals, Dolphins, Bucs and 49ers have now punted on Rosen. Only the Cards received value for doing so, with the Dolphins sending them a second-round pick in the teams' 2019 trade. The Dolphins waived Rosen ahead of the 2020 season, leading him to the Bucs' practice squad. The Bucs did not opt to move the pocket passer onto their roster to stop the 49ers from adding him to theirs. Now, the 49ers have seen enough, inviting questions about Rosen's future in the NFL.
Sudfeld, a longtime Eagles third- or second-string QB, is now in line to serve as the 49ers' third-stringer behind Jimmy Garoppolo and Trey Lance. Neither Sudfeld nor Rosen received any 11-on-11 reps in this week's practices, per Matt Barrows of The Athletic (on Twitter). Having played just one full college season, Lance will certainly need as much practice work as possible as he transitions to the pros.
Photo courtesy of USA Today Sports Images.