Fred Warner agreed to a record-breaking extension with the 49ers on Wednesday. We heard at the time it was for five years and a whopping $95MM, and now we have the full details.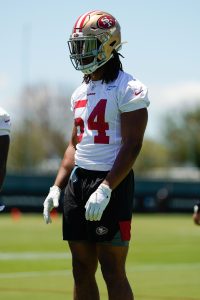 For starters, the contract comes with $40.5MM guaranteed, Ian Rapoport of NFL.com reports. But beyond that, Rapoport writes that the pact has a "unique structure that essentially makes it two deals in one." Warner's contract is for five years, but voids after the first three. He'll get $54.9MM in new money over those three years, an average of $18.3MM per year.
That's slightly less than the $19MM per year implied by the 5/95, but it still beats Bobby Wagner's 2019 extension ($18MM AAV) to make him the highest-paid inside linebacker in NFL history. Where it gets a bit complicated is that the 49ers can then "buy back" the final two years of the deal after they've voided if they choose to, by paying Warner $21.85MM in 2025.
That would mean Warner would get $76.75MM over the first four years, an average of around $19.2MM annually. The way Rapsheet describes it, it's a "record-breaking short-term extension that's nearly 70 percent guaranteed" for Warner, that "also gives the 49ers a choice to make a few years down the road."
Warner was a first-team All-Pro last season and has been an extremely reliable asset for Kyle Shanahan's defense, playing 95 percent of the snaps the past three years.
Photo courtesy of USA Today Sports Images.