San Francisco is currently home to two of the NFL's biggest young stars on either side of the ball in wide receiver Deebo Samuel and defensive end Nick Bosa. Samuel has starred in many headlines as he's pushed for a trade and a new deal. Bosa's situation, on the other hand, has been a bit quieter, although to be fair, his situation is delayed from Samuel's by a year due to the fifth-year option provided to him as a first-round pick.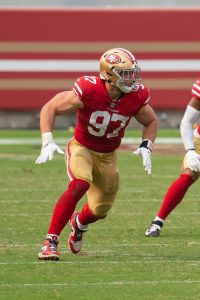 Neither player has been in attendance for OTA's this year. Samuel's holdout is directly correlated to his request for an extended contract. Bosa's absence is likely not related to his contract situation with Matt Barrows of The Athletic claiming that'd "he'd likely (be absent whether) he had a long-term contract or not," as Bosa and his older brother, Chargers defensive end Joey Bosa, like to work out together back home in Florida. Still, the younger Bosa is due to become one of the highest paid players at his position in the next year or so.
Bosa was the No. 2 overall pick of the 2019 NFL Draft out of Ohio State, beating, by one slot, his brother who was selected third-overall three years prior. Bosa ran away with the Defensive Rookie of the Year award, recording 9.0 sacks, 16.0 tackles for loss, and 25 quarterback hits. He would've attended the Pro Bowl as a rookie were it not for his team earning a berth in the league's season finale. Bosa recorded at least one sack in each postseason game, including a strip sack of Patrick Mahomes in the team's Super Bowl LIV loss to the Chiefs.
Bosa's second year ended painfully early when he suffered a torn ACL in a Week 2 game against the Jets. His recovery kept him off the field for the remainder of the season.
Bosa came back with a vengeance last year, earning Pro Bowl honors once again. In his return from injury, Bosa totaled 15.5 sacks, 21.0 tackles for loss, and 32 quarterback hits. His sack total was the fourth-highest in the NFL, his quarterback hits total good for third in the league, and he tied with Pittsburgh's T.J. Watt for most tackles for loss of any NFL player last year.
Behind quarterbacks, wide receivers and pass rushers have competed lately to be the second highest-paid position in the NFL. Premier pass rushers have seen increasingly impressive deals over the last few years, and Bosa's market is sure to be competitive with the best in the game.
In 2020, Myles Garrett signed a five-year deal with an average annual value (AAV) of $25MM. That same year saw Bosa's older brother Joey sign a five-year deal with an AAV of $27MM. 2021 saw Watt reach a new AAV-mark for pass rushers when he signed a four-year deal worth $28MM per year, the highest annual amount for any non-quarterback player until eclipsed this offseason by Tyreek Hill's $30MM per year. This offseason has also seen veteran Von Miller take a little less for a longer contract, agreeing to a six-year deal with an AAV of $20MM, and Maxx Crosby sign a four-year deal worth $23.5MM per year.
There will be a few factors that contribute to Bosa's second NFL contract. Bosa's football history contains nearly two full seasons lost due to injury. Whether or not it's a fair assessment of his current health, injury history tends to have an impact on negotiations. Working in his favor, though, is the fact that, following his ACL tear in 2020, Bosa had the best season of his young career, displaying a dominance that showed no signs of a lingering injury. In fact, the statistics he recorded last year were among those of the highest-paid players at his position, even though he's younger and did just return from a major injury. The last factor will depend on the team's capacity to pay the young star.
All things considered, barring any disasters before a deal is reached, it's expected that Bosa's deal will look extremely similar to the competition. He'll likely sign a four- or five-year contract with an AAV in the range of $27-$30MM. If Bosa once again improves on his previous season, the 49ers could make a statement and make Bosa the first non-quarterback in the NFL to make over $30MM per year. They may use his injury history to give him a lower guaranteed amount or they may make a show of confidence and guarantee the majority of the deal.
The 49ers habitually wait until absolutely necessary to enter into contract negotiations with their players, agreeing to deals with tight end George Kittle and linebacker Fred Warner just before the start of training camp. General manager John Lynch has said that it is absolutely in their plans for Bosa to stay long-term in San Francisco, according to Jennifer Lee Chan of NBC Sports. It's a fairly drama-free situation.
"At the appropriate time, we will endeavor to make that a reality that he is here for a long time," Lynch was quoted saying. He finished with a reassuring statement for Niners fans claiming, "It's all good there."