John Lynch came out of nowhere, at least regarding a personnel background, to become the 49ers' general manager in 2017. The Hall of Fame safety had spent most of the previous decade as a FOX analyst. Amid a run of NFL broadcast-booth changes this offseason, Amazon presented Lynch a lucrative offer to return to the booth.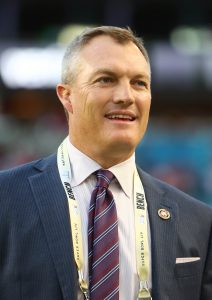 The sixth-year San Francisco GM turned down Amazon's offer — one reportedly worth far more than his GM salary — to stay with the 49ers. He decided to do so shortly after the team's season-ending loss to the Rams.
"Kyle [Shanahan] asked me to address the team, and that's when the clarity really came to me because I didn't know," Lynch said, via NBC Sports Bay Area's Matt Maiocco, regarding how he would proceed with Amazon. "I wasn't going to address it [the job offer] until after the season.
"I looked at myself and said, 'How do I sit up here and address these guys and talk about having the fortitude to fight through the pain of losing a game like this and then turn around and bolt on them?' I couldn't do it. I knew right then what I was going to do. I'm happy to be a part of the Niners."
During a historically unstable period in which the 49ers went through four head coaches in four years, Shanahan took the reins in 2017. Lynch came in soon after. Both received six-year contracts. The 49ers showed patience in the duo, which struggled during a two-year stretch largely spent without a viable starting quarterback, and it paid off when the 2019 team made a surprise Super Bowl LIV run. Shanahan and Lynch signed extensions in 2020, and the 2021 season put the team back on track.
Shanahan and 49ers CEO Jed York advised Lynch to listen to Amazon's offer. The 50-year-old exec spent nine seasons in the booth, working with FOX from 2008-16. Three years remain on Lynch's 49ers extension, with this year — which is expected to feature a Jimmy Garoppolo trade and Trey Lance's ascension — being a key point on the Shanahan-Lynch regime's timeline.
"It's silly. It's stupid. It really is," Lynch said. "When Amazon came and started talking to me, I said, 'You want to pay me what? Are you serious? Are you sure?'"
The winning coach from that NFC title game, Sean McVay, also had to fend off network interest during an offseason that has seen FOX, NBC and ESPN's top broadcast teams broken up. Amazon played a role in this, with longtime NBC play-by-play man Al Michaels signing on with the league's newest broadcast partner. Amazon, which has Kirk Herbstreit set to work with Michaels, will air Thursday-night games this season. Given the money being thrown around to top-tier announcers following Tony Romo's CBS extension, active coaches, execs and players will likely continue to be linked to TV gigs.