While most of the questions surrounding San Francisco's offense relate to the futures of Jimmy Garoppolo and Deebo Samuel, the decision center Alex Mack makes with respect to his career is significant as well. A final answer to the question of whether or not he will retire appears to be coming soon.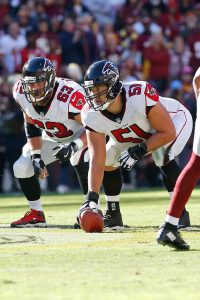 Mike Florio of Pro Football Talk reports that Mack is leaning towards ending his career. Despite the fact that two years remain on his current contract, he writes, "it appears that… Mack is ready to walk away from the game". Not surprisingly, the team is leaving a final announcement up to him.
"I've talked to him here and there" head coach Kyle Shanahan said when asked about Mack's future. "I've been in touch with him throughout the offseason… I've got a pretty good idea of what he's doing… I'm going to leave that up to Alex, but I've got a pretty good idea."
The notion that the 36-year-old could choose to retire this season isn't new, of course. It was reported in April that Mack was considering doing just that; both Shanahan and general manager John Lynch stated at the time, however, that they were under the impression Mack would return for at least one more season. A retirement announcement in the near future would contradict their line of thought from one month ago, but it would also create a significant hole on the team's offensive line.
In his first year with the 49ers, Mack earned his seventh Pro Bowl nod and continued his career-long streak of starting every game he was available for. If he were to retire, San Francisco would face even more turnover along their offensive front; left guard Laken Tomlinson signed with the Jets in free agency, while right tackle Mike McGlinchey was limited to eight games last season as a result of injury. The team added Spencer Burford and Nick Zakelj during the draft, but neither project as options at center at the NFL level.