There were two major reports concerning Odell Beckham Jr. on Sunday. First, we heard that OBJ has been battling a "serious and painful" sports hernia that may require offseason surgery. Then, Jay Glazer of FOX Sports, who has been tuned in to Beckham-related happenings in the past, dropped something of a bombshell when he reported that Beckham wants out of Cleveland and has told opposing players and coaches to "come get me."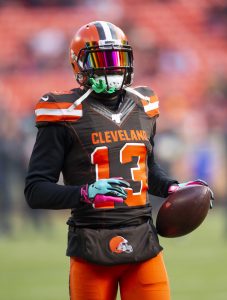 Per Charles Robinson of Yahoo! Sports, two sources close to Beckham confirmed that Glazer's report is accurate, at least as far as Beckham's comments to opposing teams are concerned. Interestingly, one source said that Beckham made the comments during "at least" one game in October, and the Browns' October schedule included games against the 49ers and Patriots, both of whom were in the market for wide receiver upgrades in advance of the trade deadline.
Beckham would have liked to play for the 49ers, and he holds San Francisco head coach Kyle Shanahan in high esteem and has developed a friendship with Niners QB Jimmy Garoppolo. According to one source, OBJ was in disbelief when he was traded to Cleveland, especially since San Francisco had made several attempts to acquire him in 2018. While he tried to see the silver linings in the deal — the Browns were loading up for a championship run, he would have the opportunity to play alongside close friend Jarvis Landry, etc. — he was unsure about his fit with the Browns.
Robinson's sources say Beckham is still uncertain about his fit — his relationship with the coaching staff and his role in the offense make him continue to question his place on the team — and that issue, along with his injury and the fact that he is not playing to the standard that he is capable of, have left him "lost" and looking for redemption. "Fame got to him, he made bad choices [and] now he has to redeem himself," one source said. "And the road to redemption isn't an easy one when you have an ego."
As Robinson notes, there is no indication that the Browns have any intention of parting ways with Beckham, and even if they did, it's unclear whether any team would offer the kind of package that would make GM John Dorsey trade an immensely talented receiver on a reasonable contract (the 49ers, with their tight salary-cap situation and relative lack of draft capital, no longer profile as an OBJ suitor). And if the Browns shake up their coaching staff this offseason, perhaps OBJ's potential could be unlocked.
Current Browns head coach Freddie Kitchens, when asked on Monday about recent reports concerning Beckham, said that there has been no discussion of shutting OBJ down for the season due to his injury (Twitter link via Mary Kay Cabot of Cleveland.com). With respect to his relationship with the star receiver, Kitchens said, "Until I hear something from Odell…mine and Odell's relationship is fine. What I've seen from Odell is nothing like the reports would indicate" (Twitter link via Cabot).
Perhaps as part of his quest for redemption, Beckham did gift the entire team with Nike Air Max 720 shoes on Monday, as Cabot tweets.
Photo courtesy of USA Today Sports Images.