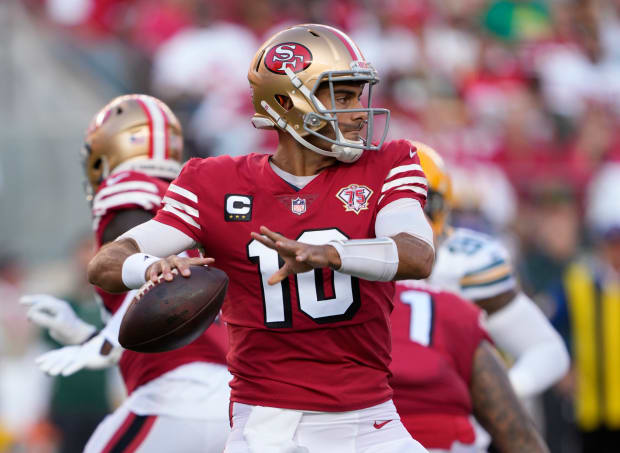 Although Jimmy Garoppolo is currently a San Francisco 49er, the expectation is that he'll be traded ahead of the 2022 season. 
The Niners would like to move on and finally give second-year quarterback Trey Lance a chance. And the storied NFC West franchise is well aware of Garoppolo's limitations. 
According to a few NFL executives, the Carolina Panthers is the most popular trade destination for Garoppolo. 
Will the veteran quarterback be playing in Carolina blue this upcoming season?
The most popular destination for Garoppolo among those to whom I spoke was the Panthers," said Dan Graziano, via ESPN+. "The most popular landing spot for Mayfield in our straw poll was the Seahawks. They don't seem interested in trading for him, but could, if he gets released, sign him to a low-cost deal and add him to a quarterback room that includes Geno Smith and Drew Lock in the wake of the Russell Wilson trade.
The biggest obstacle to a 49ers-Panthers trade for Garoppolo will be his salary. Carolina might only take a deal if the Niners are willing to continue paying for some of his salary. 
The Panthers, meanwhile, could use a more proven option at quarterback. Right now, the team's only options are rookie Matt Corral, Sam Darnold and P.J. Walker. 
Should the Panthers trade for Garoppolo ahead of the 2022 season?