While there was an important update on one 49er who has been in the headlines all offseason yesterday, the situation regarding another of the team's key priorities is murkier. With training camp approaching, much remains to be determined as it pertains to Deebo Samuel.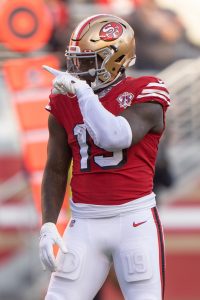 An NFL.com report details that there is "nothing imminent" with respect to an extension being finalized by San Francisco and the All-Pro receiver. That runs counter to the sense that a lucrative long-term deal could be hammered out in the build-up to camp, a possibility brought up last month. Nevertheless, the two camps "have had talks" about an extension, per the report.
Bridging the gap between Samuel's original asking price and the team's best offer to date has, naturally, been seen as a key milestone in helping repair relations between the two sides after the 26-year-old's April trade request. However, it is still "unclear as to how close the parties are to a new contract." Samuel boosted his market value in 2021 with 1,770 scrimmage yards as he became the undisputed focal point of the 49ers' offense late in the regular season and into the playoffs.
As a result, he is widely expected to join the ever-growing club of receivers signing deals averaging at least $20MM per season – a sizeable jump in compensation from the $4MM the South Carolina product is set to earn in 2022, the final year of his rookie contract. The 49ers could scarcely afford much in the way of a raise for him this season in their current cap situation, though that will change dramatically once Jimmy Garoppolo is no longer on the books. San Francisco also has fellow 2019 draftee Nick Bosa eligible for an extension, though those negotiations have taken a backseat to Samuel talks.
With much unsettled regarding his contract status, it remains to be seen if Samuel will attend training camp next week. He skipped voluntary OTAs, but was present for mandatory minicamp. The fact that he didn't participate in any on-field work, however, leaves a 'hold-in' along the same lines as a distinct possibility. While the Garoppolo situation seems set to remain in a holding pattern for the near future, then, the Samuel one will be worth watching in the coming days.