Raiders cornerback Damon Arnette has been accused of injuring a woman in a 2020 car crash, according to a report from TMZ Sports. The woman is seeking $92K in damages. Arnette plans on fighting the allegations.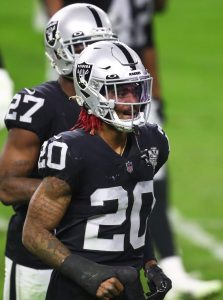 According to the lawsuit, Arnette slammed into the woman's car during the morning of October 14, 2020. While attempting to enter team facilities, Arnette reportedly missed a turn, and while trying to correct his mistake, he slammed into the woman's car at speeds of 65 miles per hour. The woman claims she suffered "head trauma," and that's vicariously resulted in "shoulder, neck and back pain as well as depression and panic attacks."
Further, the woman accuses Arnette of leaving the scene of the crash. According to an incident report, Arnette acknowledged making an unsafe turn leading to a collision, but he said he stuck around the scene long enough to "render aid to the woman." Arnette also told police that he later left the scene because he was running late for a team meeting, but he had a friend stick around and provide police with information. According to the police report, Arnette's friend actually tried to take the blame for the collision before cop's sorted out the story.
"Mr. Arnette denies the allegations in the complaint and looks forward to addressing these claims through the court process," the player's attorney said in a statement to TMZ Sports.
Following a standout career at Ohio State, the Raiders selected Arnette with the 20th-overall pick in the 2020 draft. He started seven of his nine games as a rookie, collecting 25 tackles. He got inconsistent playing time through the first four games of this season, never appearing in more than 30 percent of his team's defensive snaps. The 25-year-old landed on injured reserve with a groin injury back in October.
It's been a chaotic month for the Raiders. An email scandal forced head coach Jon Gruden to resign from his position, while wide receiver Henry Ruggs was released following a DUI crash that caused the death of a woman.
Photo courtesy of USA Today Sports Images.