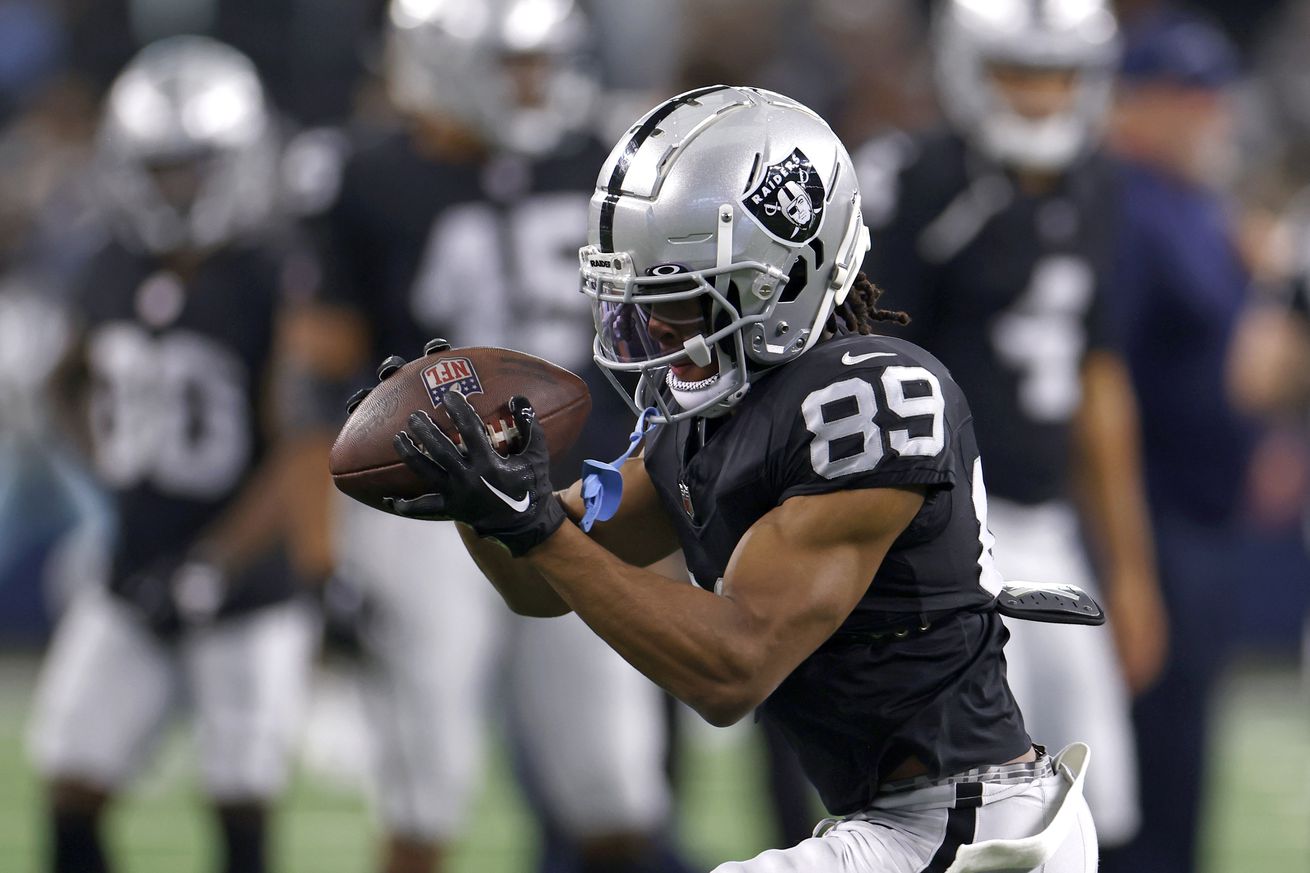 3rd-round pick showed off speed in NFL debut in Week 2
While he didn't play a lot, Las Vegas Raiders rookie wide receiver Tre Tucker flashed enough in his NFL debut in a Week 2 38-10 loss at the Buffalo Bills that the coaching staff is excited about trying to get him more involved in the offense.
The third-round pick from Cincinnati (he was the compensation in the Darren Waller trade with the New York Giants) was inactive in Week 1. At Buffalo, though, he was active with starter Jakobi Meyers out with a concussion. The speedy Tucker had a 34-yard run on a jet sweep and he was targeted once with no catches. He played nine snaps on offense and three on special teams. With Meyers having a good chance of playin against the Pittsburgh Steelers on Sunday, it will be interesting to see if Tucker will be active,
Las Vegas offensive coordinator Mick Lombardi said this that the Raiders want to find way take advantage of Tucker's explosiveness.
"I'm really happy for that young man. Going out there and playing and executing his job and playing fast and playing free," Lombardi said. "Any young receiver, or young player in general, can kind of have some trouble in terms of just playing at his level of speed you see in practice because he gets in the game and things are moving different and stuff. I was really proud of the way he performed in terms of just going out there and doing his job, and doing his job fast, and not worrying about anything else and just playing his game. That was really what I was most excited to see from him. He made a great catch on the sideline, and it was called a penalty and then obviously picked up, but he did a great job of going up and getting it and just playing fast. And you saw the speed in the speed sweep, and he got the ball in space, and he did something with it which I was really happy with. I think the whole unit was excited to see him. You guys saw him play in the preseason and make some plays. So, it was really nice to see him play in this past game and get some production. That young man works really hard, and he's fit right into the receiver room with Jakobi [Meyers] and Davante [Adams] and those guys who are grinders and have really mastered their craft. He fits in very well and he's grown every week he's been here, which we've been very pleased with, and hopefully he'll continue to do that move forward."
Now, the Raiders must work to get Tucker more opportunities. He was hot-and-cold in the preseason. He flashed his speed, but he struggled with some drops.
"I think Tre's speed definitely can give us something. You saw the speed sweep and we threw him down the field on the sidelines, so I think that factors in for sure," Lombardi said. "But we just got to do a better job in the running game overall to sustain it and get Josh [Jacobs] going and the other backs going. But you're right, all skill positions factor into that running game and we look for that every Monday and Tuesday to see what gives us the best chance to be successful. And we did that in Buffalo, and we'll try to do that this weekend against Pittsburgh."