The Raiders have restructured Yannick Ngakoue's contract (Twitter link via Field Yates of ESPN.com). The defensive end will have $12MM of his salary converted into a signing bonus to free up $8MM in cap room for the Raiders. The Raiders also added three void years to the deal to make it all work.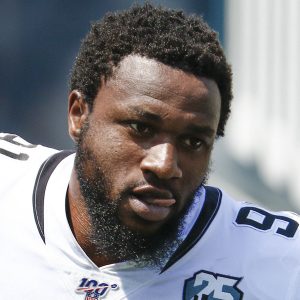 The will allow the Raiders to add KJ Wright and his new contract to the books. Plus, they'll have extra cash to upgrade elsewhere during the year.
Ngakoue inked a two-year, $26MM deal with the Raiders back in March. The basics of the pact remain unchanged — Ngakoue will earn the same amount of money and remain under club control until the spring of 2023.
Jon Gruden has long been a fan of Ngakoue. Ditto for old friend Gus Bradley, his defensive coordinator in Las Vegas. The Raiders hope that Ngakoue will help to restore their once feared pass rush, which hasn't been the same since the Khalil Mack trade.
Ngakoue, 26, is set to enter his sixth season as a pro. With 45.5 career sacks to his credit, he's a potential difference-maker — even if the Ravens didn't use him all that much in the playoffs. He's not particularly strong against the run, but he averaged over nine sacks per season over his first four years in the league, and he has also demonstrated some serious play-making ability. He forced 14 fumbles in that stretch and he was directly responsible for five of the 12 defensive touchdowns the Jaguars scored between 2016 and 2019.