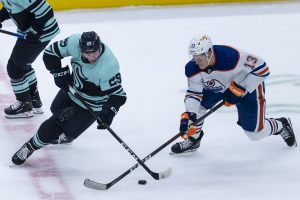 Photo: Stephen Brashear-USA TODAY Sports
It's time for another edition of NHL rumours for your Tuesday. We're drawing closer to the March 3 trade deadline and plenty of players are getting looks. Some teams are trying to give certain players a fresh start in a new location. The Edmonton Oilers and general manager Ken Holland are looking to do that with one player in particular. Today's NHL rumours takes a look at a possible Jesse Puljujarvi trade.
All NHL rumours come from the original source and are subject to change.
NHL Rumours
Teams Look Into Jesse Puljujarvi Trade
Rumour: The Daily FaceOff's Frank Seravalli took an in-depth look at the Finnish forward's trade value in a recent piece. Servalli thinks it's time for the Oilers to make a deal to give Puljujarvi a change of scenery. The former fourth-overall pick from the 2016 NHL Draft hasn't found his footing while with the Oilers and Holland could move him at the deadline.
Which team will step up to try and unlock #Oilers Jesse Puljujarvi's potential?

Or will teams make Edmonton pay to take on his $3 million salary cap hit?

Breaking down Puljujarvi's game and fatal flaw:#DeadlineCountdown: 3⃣0⃣ Days to go.https://t.co/Vegp4AiLMK

— Frank Seravalli (@frank_seravalli) February 3, 2023
Puljujarvi makes $3 million and Edmonton is right up against the salary cap. However, it's not 100-percent certain the 24-year-old may be traded. The Kailer Yamamoto injury has thrown a little bit of mystery into a Puljujarvi trade. However, it does seem more likely that a deal is going to happen.
What a Jesse Puljujarvi Trade Means
Seravalli goes through some candidates that could land the young Finn. The Florida Panthers do have connections to Puljujarvi as his current agent, Markus Lehto, was partners with current general manager Bill Zito. Holland recently put out a memo about the young player and the St. Louis Blues responded to it. The Blues may be going through their own issues, but Puljujarvi could be a good reclamation project.
There are other teams that aren't against the cap that could take on his contract as a salary dump. The team getting Puljujarvi's contract would also get an asset as a sweetener. Teams like the Buffalo Sabres, Montreal Canadiens and Chicago Blackhawks among others could take on the deal. A Jesse Puljujarvi trade will hopefully happen sooner rather than later for the Oilers.
The post NHL Rumours: Edmonton Oilers Winger Getting Trade Consideration appeared first on Last Word On Hockey.