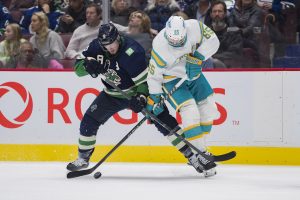 It's time for another round of NHL rumours for your Tuesday. We're a mere few days away from the March 3 NHL trade deadline. The moves are already flying, but there will plenty of action for Friday. Signings and trades are coming fast and furious, but some players might be staying. One of those players is a former Norris Trophy with the San Jose Sharks. Today's NHL rumours takes a look at the Erik Karlsson trade likely not happening.
All NHL rumours come from the original source and are subject to change.
NHL Rumours
Erik Karlsson Trade Highly Unlikely
Rumour: Sharks reporter Sheng Peng said that the Swedish blueliner probably won't be traded at the deadline. Karlsson said that general manager Mike Grier hasn't talked to him about waiving his no-trade clause. He added that if would be odd to try to strike a deal with three days before the deadline.
Karlsson, on if Grier has reached out to him to waive his NMC: "He hasn't reached out to me, I think it'd be weird if he comes now with three days left to ask me to waive my no-move. We've had plenty of time for that if that was the case."

— Sheng Peng (@Sheng_Peng) February 27, 2023
The veteran defender has had a rebirth this season in San Jose. Karlsson has 77 points in just 60 games as he makes a push to add a third Norris Trophy to his collection. The 32-year-old is trying to become the first defenceman to reach 100 points in a season since Brian Leetch did in 1991-92.
Erik Karlsson Trade Easier Later
Grier admitted that pulling a trade involving Karlsson would be easier in the off-season. Karlsson is a hard piece to move because of his monstrous $11.5 million cap hit. There had been rumours that the Edmonton Oilers were looking into adding Karlsson. However, the Oilers were asking a lot of the Sharks to make a deal happen.
Karlsson has been fantastic this season in Northern California. He's looking to reach the 20-goal mark for the first time since the 2014-15 season. His most points in a season was 82 when he reached that number in the 2015-16 season. He's only five points away from getting past that mark. Teams are going to line up to get a shot Karlsson, but teams might have to wait a bit for that to happen.
Main photo by: Bob Frid-USA TODAY Sports
The post NHL Rumours: San Jose Sharks Star Likely Staying appeared first on Last Word On Hockey.